Enter a contest to win a beautifully hand-crafted, new quarter size decorative Common Loon carving generously donated to Watersheds Canada by Canadian artist, Mike Reader: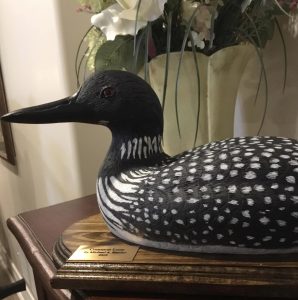 Common loons are an indicator of water quality in a lake. Except for migration and nesting, Common Loon spend their entire lives in the water. As a top predator on the lake, they almost exclusively prey on fish, with adults eating about 2 pounds of fish every day! Breeding pairs of Common Loon are a real treat to see on any Canadian lake, and you can bring this treat home by entering our new contest!
Official Rules
No purchase is necessary to enter.
Rules: By entering, the Entrant agrees to abide by Watersheds Canada's Official Rules, which are fully and unconditionally binding in all respects. Watersheds Canada reserves the right to refuse, withdraw, or disqualify any entry at any time at our sole discretion.
How to Enter: Eligible entrants can enter by submitting an entry via the online pop-up box. Incomplete entries will be disqualified at Watersheds Canada's sole discretion. Entries will be accepted from March 24, 2023 at 0:01 EST until August 31, 2023 at 11:59 EST. One entry per email.
Prize: The Winner will receive a hand-crafted Common Loon (retail value: $2,000 CDN). The prize is non-transferable. By accepting the prize, the selected Winner grants permission for the Sponsor to use the Winner's likeness, entry, and name for purposes of advertising and trade without further compensation unless prohibited by law.
Odds: The total number of eligible entries received determines the odds of winning.
Entry: Open to residents of Canada and the United States of America. Watersheds Canada's employees, its subsidiaries, affiliates, suppliers, partners, advertising and promotion agencies, and directors (collectively the "Employees"), as well as members of an Employees' immediate family and/or those living in the same household of Employees are ineligible to enter.  Information submitted with an entry means the Entrant agrees to be added to Watersheds Canada's mailing list. The Entrant can unsubscribe at any time. Individuals who are on Watersheds Canada's mailing list prior to March 24, 2023 can fill in an Entry.
Selection and Notification of Winner: The Winner will be selected by a random drawing under the supervision of Watersheds Canada. Watersheds Canada will notify the Winner by email within seven days following Winner selection. Watersheds Canada is not responsible for and shall have no liability for Winner's failure to receive notices due to email security settings that may cause notifications to be marked as spam or junk email. Watersheds Canada shall not be liable for the Winner's provision of incorrect or otherwise non-functioning contact information. If the Winner 1) fails to claim the prize within seven (7) days from the time the award notification was sent, 2) is found ineligible, or 3) does not complete and return an executed declaration and release within the specified timeframe, the prize may be forfeited and an alternate Winner will be selected.
Rights Granted by You: By submitting an entry, the Entrant understands and agrees that Watersheds Canada and any individual acting on its behalf shall, where permitted by law, have the right to print, publish, broadcast, distribute, and use in any media known now or hereafter developed, in perpetuity, worldwide, and without limitation, Entrant's name, photo, portrait, voice, likeness, image, statements about the entry, and biographical information for news, publicity, advertising, promotional purposes, trade, information, and public relations without any further notice, review, consent, compensation, or remuneration.
Questions? Email info (at) watersheds.ca