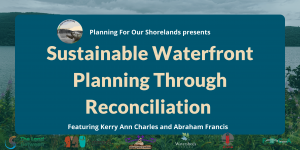 To make informed decisions around waterfront development proposals, stormwater management plans and environmental impact studies are often used to communicate the impacts of development from a western science perspective. But how about Indigenous science?
The Planning For Our Shorelands project is proud to present this collaborative and interactive workshop aimed at breaking down barriers and familiarizing local decision-makers and the public with Indigenous relations to land and water. Following presentations by our guest speakers, the audience will be engaged to discuss how their municipality can develop the waterfront sustainably through acts of Reconciliation.
To further the efforts of the Ontario Professional Planners Institute's Indigenous Planning Perspectives Task Force, the Planning For Our Shorelands program presents Sustainable Waterfront Planning Through Reconciliation , a collaborative workshop discussing "land use planning" from an Indigenous perspective, the important role of vegetated shoreline buffers, and the collaborative nature of sustainability. This workshop is aimed at familiarizing local decision-makers with Indigenous relations to water and will engage the audience to reflect on ways they can take steps to include Indigenous voices in decision-making processes around waterfront development and planning.
Register now before space runs out!