Watersheds Canada Business Supporter Program
Big or small, international or local, CEO's, ESG managers or marketing directors – all business leaders have an opportunity to join Watersheds Canada Business Supporter Program.
Watersheds Canada is always open to discuss partnership opportunities with all other nonprofits and the private sector, including corporations, independent retailers, family-owned businesses, firms, agencies and industry associations.
Freshwater protection is everyone's business.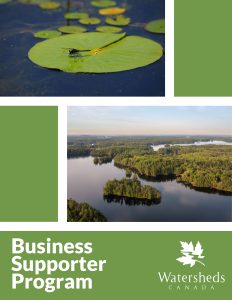 Interested in developing a corporate partnership?
Check out our informational package to learn more about the brand alignment and promotional value that a partnership with Watersheds Canada will bring.
Ready to jump in?
Purchase online or complete our form:
1.  Visit our Square store
2. Download our form and email it to partnership@watersheds.ca
Have questions? Find out how your company can work with Watersheds Canada by contacting us by email at partnership@watersheds.ca or by phone at (705) 313-1700.
We look forward to partnering with you!