Staff & Board Members
Watersheds Canada Staff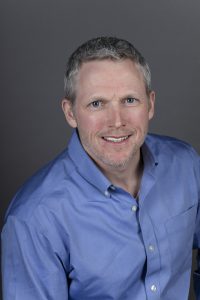 Robert Pye
Executive Director
Robert's conservation career started when a college internship earned him a full-time communications role at the OFAH. After 25-years with the OFAH, Robert now proudly joins Watersheds Canada as the Executive Director. Robert is the author of a national award-winning outdoors program. He was on the communications frontline on some of the biggest topics to face our natural resources. As a senior nonprofit association director, he developed major branding campaigns, introduced new corporate partnerships, and modernized revenue generation programs to support conservation. In 2009, Robert achieved "Certified Association Executive (CAE)" designation from the Canadian Society of Association Executives. Robert is a Public Relations graduate from Durham College, and a Skills Canada-Ontario alumni. He is an accomplished speaker and writer.
As a child, Robert's passion for freshwater was developed along the banks of his hometown trout stream. Today, his family proudly owns heritage property near Peterborough where they produce maple syrup, manage forests, and host environmental field trips for high school students. Robert's outdoor passions include fishing, backcountry camping, as well as hunting with his two boys and English Setters.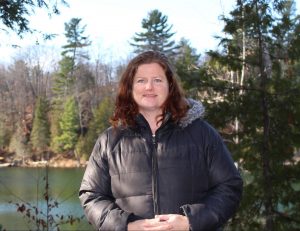 Barbara King
Director of Programs and Partnerships
Barbara King has served in leadership roles with the organization since 1999. Barbara has been integral in working with lake groups and other non-profits on action-oriented stewardship programs into large multi-stakeholder initiatives that can be launched on a national level. Collaboration and partnerships are at the centre of her work with sharing and capacity building for groups that work with landowners to protect Canada's lakes and rivers.
Barbara holds a Master's in Philanthropy and Nonprofit Leadership from Carleton University and an environmental management diploma from Sir Sandford Fleming College. She brings extensive experience in leadership with over 20 years of direct project development experience and expertise. Barbara lives on a lake with her family in Maberly, Ontario. She enjoys mountain biking, swimming, and exploring nature.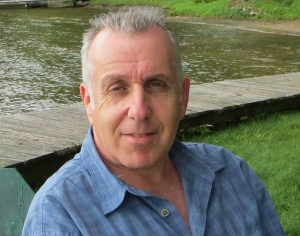 Ayal Lesh
Director of Development and Fundraising
Ayal's love of nature and wildlife started as a child and led him to pursue a career in the environmental sector. After completing an Environmental Science degree at Trent University, he initially worked in several provincial and national government departments followed by over 25 years in the non-profit world developing environmental education and engagement programs, managing organizations, and fundraising. Ayal was thrilled to join the Watersheds Canada team in 2021 because of its profound mission and values, impactful programs and initiatives, and dedicated, highly skilled staff.
When not working to protect and improve the natural world, Ayal enjoys being active in the natural world — particularly in and around freshwater ecosystems. He spends a good part of every summer, and many winters, on lakes and rivers in regions including Lake Huron, Georgian Bay, Kawartha Lakes, Haliburton Highlands and Muskoka Lakes.
Melissa Dakers
Habitat and Stewardship Program Manager
Melissa Dakers joined the Watersheds Canada team in 2015, after taking time to raise her two sons. During that time, Melissa was a very active member of the Mississippi Lakes Association, where she was the Water Quality & Lake Steward on the board of directors for twelve years. She was an enthusiastic member of the Mississippi Lake Plan Committee, where she has lent her expertise to the completion of the Mississippi Lake Plan, and was an active co-chair and member of the Environmental Committee.
Melissa studied Natural Resource Management at Guelph University and Ecosystem Management at Sir Sandford Fleming College in Lindsay. Mississippi Valley Conservation Authority employed her for 6 years directly after graduation, as a Water Quality Technician and Watershed Monitoring Supervisor. Liaising with other agencies, partners and lake stewards to promote and educate them on environmental practices is her passion. It is a beautiful thing when a career and passion come together.
Melissa lives and plays on Mississippi Lake with her husband and two boys, year-round. When not at home crafting, you will find her camping or paddling around in her kayak and always with a smile on her face.
Chloe Lajoie
Natural Edge Program Manager
Chloe Lajoie is an outdoor enthusiast who has been studying and practicing Environmental Stewardship since 2009. She attended Nipissing University and graduated with an Honours Degree in Environmental Biology and Technology. As part of her program, she also attended Canadore College and completed the Environmental Technician – Protection and Compliance Program. While completing her studies, Chloe was able to take part in the Undergraduate Research Conference in 2013, presenting her thesis on the effects of Forest Tent Caterpillar outbreaks on Trembling Aspen. In the past, she has worked at Ferguson Forest Centre and Lake Superior Provincial Park.
Chloe joined the team at Watersheds Canada in 2015 as a Stewardship Program Assistant and is now managing our Natural Edge Program, working with landowners to restore their shorelines. In her spare time, Chloe can be found having fun with family and friends, camping, kayaking, fishing, hiking, and trying out tasty new recipes!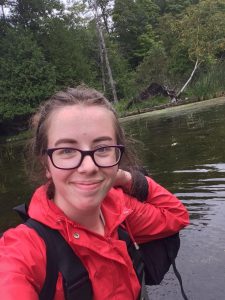 Monica Seidel
Communications and Fundraising Manager
Monica is a passionate environmental educator and communicator who is always looking for opportunities to connect people of all ages with nature and local wildlife species. She started working at Watersheds Canada in the summer of 2019, dealing with the communications, graphic design, and videography needs for the different programs. She has since transitioned to a role that focuses on fundraising, engagement organizing, communications and education outreach. She enjoys writing and using digital media to showcase and share the hard work environmental organizations are doing. Since graduating with an Environmental Science degree from Queen's University, she has been fortunate to work at wildlife rehabilitation centres, a conservation authority, a humane society, and environmental non-profit organizations.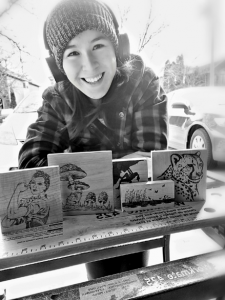 Darlene Coyle
Environmental Policy and Planning Program Lead
Darlene Coyle is a passionate environmental enthusiast whose dream is to achieve the Convention on Biological Diversity's vision for Living in Harmony with Nature. Her professional interests include wetlands, environmental policy, nature-based solutions, and equitable decision-making.
Darlene holds an Honours degree in Criminal Justice and Public Policy from the University of Guelph where she learned the importance of law and policy in achieving positive change. However, it was while studying for her Master's in Environmental Studies from the University of Waterloo that she learned to apply the principles of sustainability when analyzing environmental law and policy.
Darlene is also a Policy Project Coordinator with the Canadian Youth Biodiversity Network and an Associate Research Fellow at the Centre for International Sustainable Development Law. In her spare time, she can be found hiking, biking, training in Brazilian Jiu Jitsu, and making wood burning art.
Nicole Dubé
Freshwater Health Coordinator
Nicole Dubé has been passionate about water issues from a young age. Whether she was doing a pond study at a local conservation area or swimming in the Great Lakes, you could always find her in the water. Her love of nature led her to work as an outdoor educator with a school board and local conservation authority.
Nicole graduated from the University of Waterloo with a Master's degree in Social and Ecological Sustainability and a specialization in Integrated Water Management. Her research focused on community engagement about flooding in the town of New Hamburg, ON. She is interested in engaging a wide variety of people in environmental issues through art and scientific communication. When she is not at work, you can find her camping or playing with her cat named Waffles.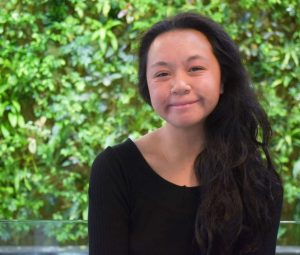 Jane Pangilinan
Digital Engagement Technician
Jane is passionate about the environment and is always eager to learn more about water issues and native plants. She has a degree in Environmental Studies from the University of Waterloo.
When not
working, Jane likes to bike, go to the beach, walk, paint, and read.
Jane will be focused on creating and sharing an education and outreach campaign leading up to World Water Day in March 2023.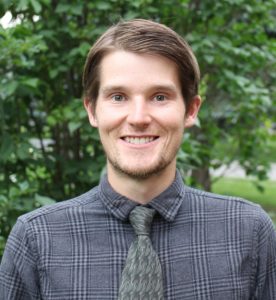 Christopher Dennison
Environmental Protection Intern
Raised in the heart of Thousand Islands National Park, Chris has devoted his professional and academic career to finding integrative solutions to issues of wildlife and freshwater conservation.
Chris holds both a BA (Political Science) and BSc. (Biology), and has previous experience in project management, environmental policy analysis, and ecological fieldwork. He has contributed to various conservation-related initiatives, including the Western Chorus Frog Long-Term Monitoring Project and the Landon Bay Nature Camp Program. While serving as Municipal Policy Intern with Watersheds Canada in 2021, he aided in the development of the Planning For Our Shorelands project and worked diligently to communicate the current need for sustainable, ecologically-sound shoreland land-use policy in Ontario.
Chris lives in the beautiful Thousand Islands and is excited about current and future initiatives that strengthen conservation efforts in the region and abroad.
Chantal Lefevre
Natural Edge Technician
Chantal Lefevre has always loved nature and exploring the outdoors, because of this, she explored a career that can benefit what she loves. She graduated from Fleming College with an advanced diploma as an Environmental Technologist and then obtained her BSc. in Environmental Science from Trent University, finishing her educational career in 2020.
Chantal has experience working with Quinte Conservation Authority, Thousand Island Watershed Land Trust, and municipal and provincial governing agencies. In her free time, she enjoys kayaking, hiking, and swimming with her dogs. Chantal is excited to bring her knowledge and enthusiasm to the Natural Edge program.
Karen Ballentine
Bookkeeping, Administration & Fundraising Support
Board of Directors
Watersheds Canada is governed by a volunteer Board of Directors:
Mary Ellen Stoll, Retired Manager, Ontario Ministry of Natural Resources and Forestry
Tom Whillans, Professor, Environmental and Resource Science/Studies at Trent University
Brett Painter, Physical Science Specialist, Environment and Climate Change Canada
Mary C. Rae, Senior Legal Counsel, Legal Services Department, City of Kingston
Kat Kavanagh, Executive Director, Water Rangers
Bridget Andrews, Executive Director, Saskatchewan Association of Watersheds
Stephen Blight, Retired Vice President, Capital Lands and Parks, National Capital Commission