The "Lake Protection Workbook: A Self-Assessment Tool for Shoreline Property Owners" is an educational tool that helps property owners make improvements to their shorelines and it provides information about lake protection. This project was produced by the Lake Links Planning Committee with collaboration and review from many organizations including: Cataraqui Conservation, Friends of the Tay Watershed Association, Lake Networking Group, Lanark County Stewardship Council, Mississippi Valley Conservation Authority, Ontario Ministry of Natural Resources and Forestry, Rideau Valley Conservation Authority and Watersheds Canada. You can download an online copy for free, or order a physical copy for $2.00+shipping by visiting our secure online store. If you are purchasing a large quantity of workbooks, please email info@watersheds.ca to arrange payment.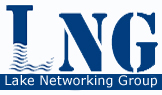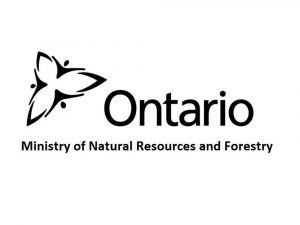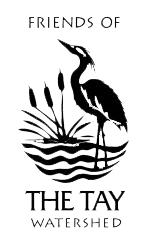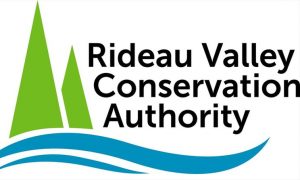 The Lake Protection Workbook includes a series of questions that will help you assess how well you are protecting your property and your lakefront through everyday actions. It also provides practical information, recommendations, and space for recording improvements to assist you in your lake protection efforts.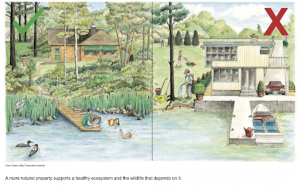 The Lake Protection workbook is divided into four parts to help guide you through this process:
Background Property Information

Lake Protection Self-Assessment

Record of Achievements & Planned Improvements

List of References & Source Information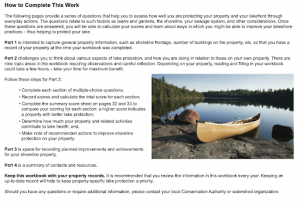 Your self-assessment can help you identify practical ways to protect your lake by making planned improvements to your shoreline.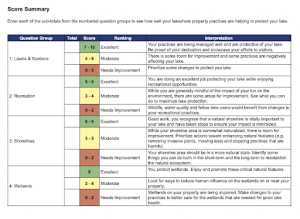 This workbook is not a replacement for technical evaluation or in-person assessment by a professional. It is an educational tool drawing attention to important aspects of lake protection.