2016 Long Sault Creek Restoration Project
As part of Fisheries and Oceans Canada's Recreational Fisheries Conservation Partnerships Funding Program for 2016, Long Sault Creek, located northwest of Perth, Ontario, was the location of a 1km cold water creek restoration.  Long Sault Creek is one of five cold water streams within the Mississippi Valley Watershed and has been identified as one of the only native spawning brook trout creeks in Lanark County.
Over the course of the summer and fall 2016, Watersheds Canada worked on the Long Sault Creek restoration project in partnership with Lanark County Stewardship Council, Lanark & District Fish & Game club, MNRF Stewardship Rangers.
Coldwater streams are significant tributaries in the proper function of natural ecosystems as they help to moderate temperatures in the larger rivers and lakes they flow into. Not only are these streams water temperature regulators, they also provide nursery habitat for many fish species including brook trout which require the cold temperatures and high dissolved oxygen levels that these creeks possess. Brook Trout were first introduced into Long Sault Creek in 1939. At this time, 1200 yearlings were stocked. Since then, 31,320 brook trout were placed in the stream. (Ministry of Natural Resources & Forestry Report, 1972).  The brook trout have not been stocked since the 1970's and continue to make a presence in the creek.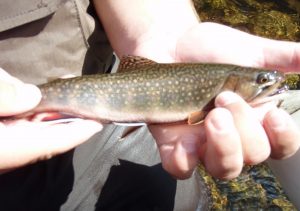 Mississippi Valley Conservation Authority provided initial electrofishing equipment and expertise, along with volunteers from LCSC and Watersheds Canada staff, to determine the locations of the brook trout populations. Several brook trout were caught and identified. With this confirmation, data was collected from various agencies and partners to study the health and history Long Sault Creek.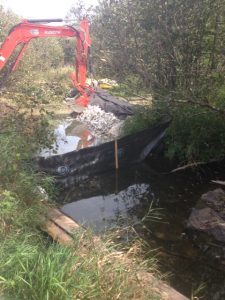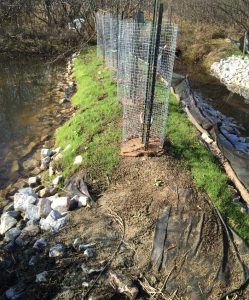 This restoration included several projects. There was an online pond that was inhibiting the fishery by flooding and releasing silt into the creek every spring. A rock clay berm was built by the Arnott Bros. Ltd to isolate the pond from the creek, thereby protecting Long Sault Creek from further degradation.
Several obstructions were removed that were blocking flow, including an old broken canoe and much debris. Portions of shoreline were planted and naturalized with 60 Silver Maple and Black Willow to provide future shade to the creek, helping to maintain and lower water temperatures. The project also included the creation and installation of half log structures that were installed along banks of the creek, parallel to the flow, to provide shade and shelter for the fish until the trees were able to mature. As well as adding pea stone gravel to spawning bed locations.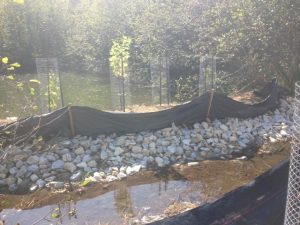 This entire project would not have been possible without the support of the many partners and volunteers who made it successful. It was a combined effort involving the Lanark County Stewardship Council, Lanark & District Fish & Game Conservation Club members, the Ministry of Natural Resources & Forestry staff & Rangers, Mississippi Valley Conservation Authority, Watersheds Canada and the involvement of the property owners. Special thanks to the Department of Fisheries and Oceans Recreational Fisheries Conservation Partnerships Program for the financial support in the competition of the Long Sault Creek Restoration Project.