2018 In-Water Structures Project – Mazinaw Lake
Famous for its 100 metre granite cliff, Mazinaw Lake is situated in portions of North Frontenac and Addington Highlands Townships, north of the town of Kaladar. With a lake perimeter of over 49 kilometres and a maximum depth of 144.8 metres, it is one of the deepest inland lakes in Ontario. Located in the headwaters of the Mississippi River watershed, Mazinaw Lake is a long narrow lake divided into two basins by the narrows, and is home to Bon Echo Provincial Park.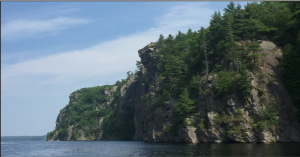 Mazinaw Lake supports a cold-water fishery such as Lake Trout, Walleye, Smallmouth Bass and Burbot. There are over 300 properties along the waterfront of the lake, which include many boat in access only properties. With confirmed funding for 2018 from Fisheries and Oceans Canada Recreational Fisheries Conservation Partnership Program, Watersheds Canada, with support from the Mazinaw Property Owners Association, Conservationists of Frontenac Addington, and Lanark County Stewardship Council, conducted site visits to determine and map out potential enhancement sites for the in-water brush bundle structures. Consideration was also made to avoid the confirmed locations of the lake trout spawning beds.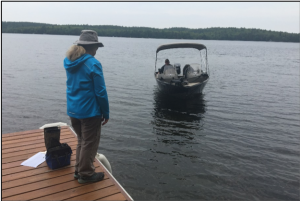 Watersheds Canada and Mazinaw Property Owners Association recruited volunteers and over several weeks, supplies and equipment were gathered and purchased. Volunteers also collected, cut and assembled the brush bundles at various locations around the lake.  Watersheds Canada staff and Mazinaw Property Owners Association volunteers gathered to collect and deploy the 24 brush bundles around the lake over a span of 2 days, August 30-31, 2018.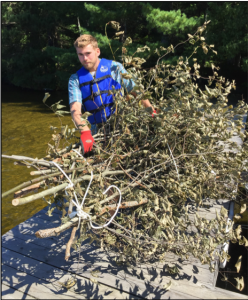 Thanks to Fisheries and Oceans Canada – Recreational Fisheries Conservation Partnerships Program and many volunteers, we were able to successfully enhance the fish habitat of Mazinaw Lake with twenty-four in-water brush bundles structures.