Mississippi Lake 2017 Brush Bundle Project
One of the largest inland lakes in South-Eastern Ontario, Mississippi Lake is less than an hour's drive from our Nation's Capital. That being said, it has a high level of development pressure.
Mississippi Lake is known for its recreational cool and warm water fishery, particularly: Walleye, Northern Pike, and Smallmouth and Largemouth bass and is a popular destination for year round fishing from over 1200 permanent and seasonal properties, as well as day users.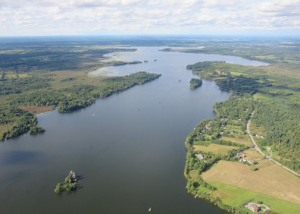 Mississippi Lake from the air (Photo credit: www.mississippilakesassociation.org)
As development on the lake increases, the amount of natural woody debris along the shorelines and in the lake decrease, as residents try to "clean up" the lake.
Underwater woody debris is a healthy component of lake environments. Sunken logs, trees, branches, and root balls provide excellent habitat for wildlife, including fish, turtles, birds, invertebrates, and more. Beaver activity, wind, erosion, or water inflows from rivers or creeks naturally deposit such woody debris into a lake. However, human activity and development have significantly reduced the amount of natural woody debris in lakes.
Communities can promote the health of wildlife populations and improve water quality by creating additional woody debris habitat, such as in-water structure of brush piles or bundles. These brush bundles can provide fish with a food source, as well as shaded areas to rest, spawn, and escape predators. 
The fish habitat on Mississippi Lake was enhanced using this technique of brush bundle placement. These bundles provide enhanced aquatic habitat for a variety of fish species as well as other invertebrates, amphibians and reptiles.
Volunteers from the Mississippi Lakes Association along with Watersheds Canada gathered and created a dozen brush bundles to help enhance the fish habitat of the lake. Using the MLA's pontoon boat "The Miss L.A." and GPS coordinates, the volunteers were able to deploy the bundles into areas of the lake in need of restoration. Care was taken to make sure the bundles were anchored and were sunk in areas deeper than 12 feet, so as not to impede boat traffic.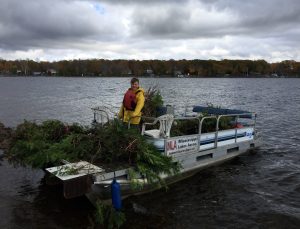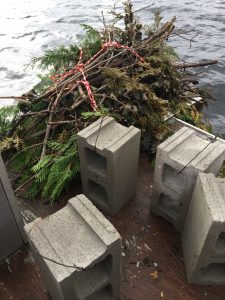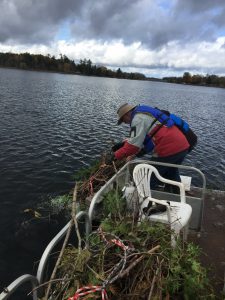 Thanks to Fisheries and Oceans Canada Recreational Fisheries Conservation Partnerships Program and the many volunteers, we were able to successfully enhance the fish habitat of Mississippi Lake with eleven in-water brush bundles structures.