2017 Ardoch Lake Walleye Spawning Bed Enhancement Project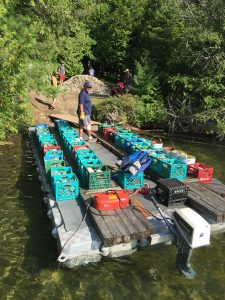 Located in the Township of North Frontenac, Ardoch Lake is fortunate to have a very active lake association, the Malcolm and Ardoch Lakes Landowner' Association (MALLA), whom have been monitoring and enhancing walleye spawning beds on both Malcolm and Ardoch Lakes since 2008. The organization is actively involved in a Walleye Watch Program where volunteers conduct walleye counts annually during spawning season in early spring, as soon as the ice goes out. Therefore, partnering with MALLA on this project was an easy decision and there was no doubt it would be a success.
Due to the location and the lack of accessibility to the two lake shoals, it was determined that two barges would be rented and that the washed river stone would be need to be moved by hand. So MALLA gathered over a hundred milk crates to transport the rock via barge to the shoals and the search for volunteers began.
Over two days (August 15 & 16, 2017) thirty-five tons of River rock were loaded onto milk crates, brought over to specially selected shoals on Ardoch Lake, and unloaded in place. 18 volunteers, including MALLA members, 4 Ministry of Natural Resources & Forestry Youth Stewardship Rangers, Barbara King (Executive Director) and Melissa Dakers (Lake Stewardship Co-ordinator) from Watersheds Canada, and Pat Nobbs and Lauder Smith from Conservationists of Frontenac Addington, put their muscle power to work on the first day. 19 volunteers, including many from the first day and 9 MNRF Rangers, worked on day 2 to get all the rock in place.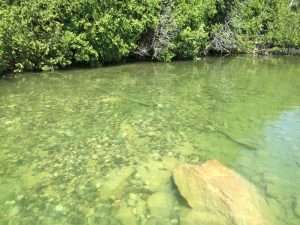 The result was amazing to see, two historical walleye spawning beds restored and ready for the 2018 spawning season on Ardoch Lake, with funding provided by the Fisheries and Oceans Canada's Recreational Fisheries Conservation Partnerships Program.