Each item in this series will help you and your family enjoy nature this winter as you get outside, help local species, try a new activity, and appreciate nature! All of the activities are low barrier and low cost to make them as inclusive as possible. Whether you are a seasoned winter explorer or new to Canadian winters, there are lots of small and fun ways to enjoy this season. Let's get started with Watersheds Canada's 10 Days of Winter Fun!
1. Making Maple Taffy
Maple taffy, or tire d'érable, is a tasty winter treat made from maple syrup on snow! Head outside with our family and enjoy this classic Canadian candy! Tip: Always do a test in the snow before you pour all of your syrup. This will let you adjust if your syrup becomes too hard or too liquidy. If your syrup becomes too hard add a bit of water. Or if your syrup is too liquidy then place it back on the stove to cook a little longer.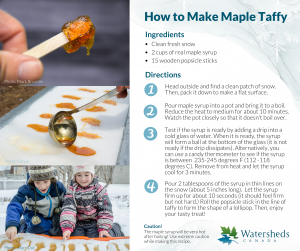 2. Do a Winter Bird Search
Looking to go on your first bird watching adventure? Use our winter birds word search (download here) to learn about some of our winter resident bird species. Then, head outside and see how many species of birds you can find! 
3. Build a Winter Campfire
Campfires are a great way for people of all ages to enjoy the outdoors. Connect with your friends and family around a campfire this winter! Share stories, make s'mores, or see how many animals you can make in the shadows using your hands. Be sure to monitor your campfire at all times and go over fire safety with any young ones.

4. Start a Nature Journal
Spend 5 minutes listening to the sounds of nature to create a peaceful moment in your day. How many unique sounds can you hear? Consider starting a nature journal as a way for you to remember and organize what you see, smell, and hear while outside. You will collect your observations and questions about your nearby nature using words, drawings, and data. Remember, you do not need to be an artist to get started! What is important is that you take time to listen to nature and meet some of the species that live in your neighbourhood.
5. Match the Animal Tracks
It's time to become a wildlife detective! Looking for wildlife can be hard work, but a good way to start is to look down for their footprints, or tracks. Winter is the perfect time to look for tracks, especially after a fresh snow. Here are some common wildlife species – match the animal to the track they left behind!
6. How to Bundle Up
Explore the outdoors with your family all year long! The secret to staying warm and comfortable during cold weather is wearing the right clothing. Find out how layers can help you stay warm this winter with this Bundle Up graphic.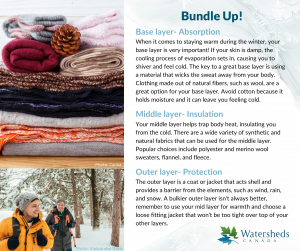 7. Hibernation
Many animals hibernate or enter into a similar state in order to survive cold weather in the winter months! Did you know that black bears are not true hibernators? They enter a state called torpor, which is similar to hibernation, but allows them to wake up quickly if they need to. During torpor, heart rate and breathing rate decreases, body temperature reduces slightly, and they do not eat. Print out our Winter Shelter Activity Sheet so you can find all of the animals in their winter shelters and colour them in! 
8. Do a Bark Rubbing
Discover the shapes and textures found in nature! Head outside this winter and learn more about the trees in your backyard by creating a tree bark rubbing. Check out our worksheet below for instructions and share your artwork by emailing info@watersheds.ca
9. Weather Station
Weather observation is a great way to get your kids involved in science on a daily basis! Check out our printable weather wheel activity that can help your family get outside and learn about basic weather conditions. For extra fun, grab a sheet of paper and make a chart to record the weather each day. At the end of the month, tally the number of days of sun, clouds, rain, wind, and snow, to see if there is a general trend.
10. Build a Bird Feeder craft
Create a fun and simple bird feeder with your kids this holiday season! Pine cone bird feeders provide a nutritious food source for winter birds while helping your whole family get outside and enjoy nature. Which birds do you think will enjoy this tasty treat?