by Nicole Davy
While Ontario winters can be cold and dark, there are still many ways you can enjoy the outdoors and spend time in nature. This list of ten ways to enjoy nature this winter will inspire you to get outside, help local species, try a new activity, and appreciate local nature with your whole family!
1. Build a Winter Shelter
The word 'quinzee' or 'quinzhee' is of Athabaskan origin. A quinzee is a Canadian winter shelter made of snow that is shaped and hollowed out. They can be built for survival purposes, winter camping, or for fun! Make your own quinzee with your family this winter using our step-by-step instructions: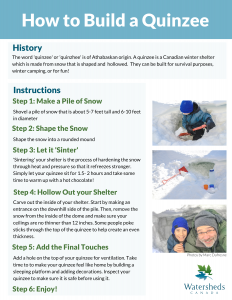 Watersheds Canada's how to build a quinzee PDF instructions
2. Study a Snowflake
Did you know the temperature and humidity of a cloud affects the shape of snowflake crystals? Take time to admire the unique beauty of nature this winter by catching a snowflake on your mitt and then studying it! Once you get back inside, draw out the snowflakes you saw or make paper snowflakes and hang them around the house.
3. Make a Winter Home for Pollinators
The work of pollinators, like bees, ensures successful harvests of crops and contributes to healthy plants everywhere! That's because pollinators visit flowers and move pollen around, ensuring plants like wildflowers and crops are fertilized. About 1 out of every 3 bites of food you eat is possible because of our precious pollinators. Help them this winter by building a "bee hotel" that they can find shelter in.
4. Try out a New Winter Sport
Strap on your snowshoes or a pair of cross country skis! Many community groups rent out equipment and trail maps, making this an accessible option for families. Winter is a great time to try new activities that help you stay active and enjoy time outdoors. If you are already a pro, find a friend or family member to teach so that you can spend time in nature together!
5. Listen to the Sounds of Nature
Spend 5 minutes listening to the sounds of nature to create a peaceful moment in your day. How many unique sounds can you hear? Consider starting a nature journal as a way for you to remember and organize what you see, smell, and hear while outside. You will collect your observations and questions about your nearby nature using words, drawings, and data. Remember, you do not need to be an artist to get started! What is important is that you take time to listen to nature and meet some of the species that live in your neighbourhood.
6. Go on a Nature Scavenger Hunt
Head outside and take part in a winter scavenger hunt! Icicles, pinecones, and birds are just a few of the items for you to find during this fun activity. Make it a competition or work together as a family to check off as many items as possible.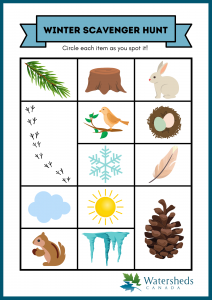 Watersheds Canada's winter scavenger hunt PDF download
7. Go for a Hike
Connect to nature this winter by going on a hike! Research shows that exposure to nature can positively affect your mental health and physical wellbeing. Be sure to follow all posted signs and boundaries on trails and leave only footprints so others can enjoy trails and hiking areas after you leave.
8. Search for Winter Birds
Just like us, some animals stick around for the winter! Head outside and see how many species of birds you can find. Looking to get your little one out for their first bird watching adventure? Use our winter birds colouring sheet which highlights common Ontario winter resident bird species! Spot something that's not on our colouring sheet? That's what the blank back of the sheet is for – draw away!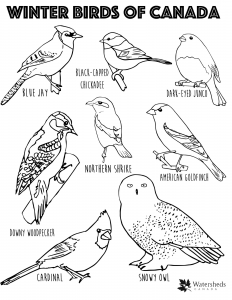 Watersheds Canada's winter birds of Canada colouring sheet PDF download
9. Find Animal Tracks
Become a detective and use animal tracks as clues to find out who has been in your own backyard! If you visit a natural area that gets a lot of foot traffic, be sure to look off the trail – people's boot prints will make it hard for you to find animal tracks. If you have never tracked an animal before, a good way to get started is to watch an animal make a track and then go look at the track right away. How does it compare to your boot print?
10. Warm Up Next to a Campfire
Campfires are a great way for people of all ages to enjoy the outdoors. Connect with your friends and family around a campfire this winter! Share stories, make s'mores, or see how many animals you can make in the shadows using your hands. Be sure to monitor your campfire at all times and go over fire safety with any young ones.
Thank you for reading this article! It was written by staff at Watersheds Canada, a national non-profit charitable organization that works with landowners, students, community groups, and organizations to enhance and protect their lakes, rivers, and shorelines. Watersheds Canada envisions people across the country caring for their waters, resulting in clean, healthy lakes and rivers to support humans and wildlife for years to come.