by Ty Fischer, Riparian Health Restoration Technician
With cooler temperatures approaching, you might be starting to think about the holiday season and everything that comes with it – skiing or snowboarding, sipping warm apple cider by the fire, snacking on gingerbread and other sweets, and of course, exchanging gifts with your friends and family.
If you are starting your search for a thoughtful and unique gift for the nature lover in your life, look no further than our symbolic adoptions. Taking one of these representative species under their wing will directly support Watersheds Canada's programs, and with four new options to consider – Blanding's turtle, eastern red-backed salamander, osprey, or spotted sandpiper – there are plenty of choices to help you select the perfect species for the gift's recipient.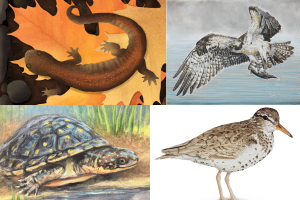 Symbolic adoptions start at $25 and all monies raised support on-the-ground freshwater stewardship work! Tax receipts are available on eligible purchases of $25+. Each symbolic adoption includes a 5″x7″ postcard featuring a different work of art done by a Canadian artist. Gifts also include a beautiful blank honour card for you to personalize and personally give as a gift to your friend, loved one, or co-worker (or yourself!).
Have questions? Email us at info (at) watersheds.ca or call 613-315-6110.