Thank you to everyone for supporting Watersheds Canada's first-ever 50/50 charity lottery event! Because of you, we are able to bring nature back to our shores, fund fish spawning habitat, and promote hands-on lake and river stewardship programs.
Environmental commitment and generosity always inspires the Watersheds Canada team, especially over the past six weeks of the Water 50/50 charity lottery. In total, $4,585 in prize money was awarded to three early bird winners ($150 each), and one grand prize champion.
Water 50/50 champ gives back his winnings to Watersheds Canada!
We are happy to announce that the grand prize winner of $4,135 has made an outstanding commitment to further his steadfast support of freshwater stewardship programs!
"I am going to turn my prize money back into support for shoreline restoration work," said Philip L., of Maitland, who was contacted immediately after the Water 50/50 final draw on October 21. Philip's lucky ticket number was randomly drawn from over 30,000 tickets.
Keep making a splash for lake protection!
Increasing development along Canada's lakes and rivers is causing critical habitat to become compromised and degraded. Watersheds Canada, in partnership with local organizations, is working to protect, enhance, and restore our freshwater. See how you can get involved to take action in your own community by partnering with Watersheds Canada.
Thank you for your support,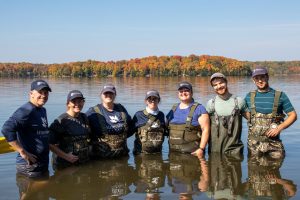 Robert, Chantal, Chloe, Monica, Melissa, Ty, Nathaniel, and the Watersheds Canada team 
Lottery Licence #RAF1334927

Ontario Gambling Helpline (1-866-531-2600)