In 2019, Watersheds Canada, in partnership with the Daniel and Susan Gottlieb Foundation, granted volunteer groups with funding support towards projects that had a positive impact on the health of lakes and rivers and involved their lake community. Here are 5 activity updates:
Shoreline Naturalization Program & Lake Protection Booklets
The Cavendish Community Ratepayers Association Inc. was able to secure shoreline plants and the Lake Protection Workbooks for their community. More shoreline property owners now have the tools and the knowledge they need to improve their shoreline buffer zone and reduce unwanted runoff into the lake.
Water Quality Sampling Program
The Canning Lake Property Owners Association undertook a water quality sampling program. The Association has tested for bacteria multiple times a year at 24 locations with 12 locations tested each year since 2002, has tested for phosphorus since 1971, and started testing oxygen levels in 2016. By resuming water testing, their Association will be able to communicate with their membership to continually increase awareness of water quality issues. Please note: below photo taken in 2019.
Buckthorn Eradication Program
The Battersea Loughborough Lake Association was able to purchase 2 Extractigators, a plant pulling tool used to remove Buckthorn trees, roots and all! It is a Canadian invention that uses the operator's weight and leverage to uproot the tree. It is effective and easy to use. Buckthorn trees are invasive, spread aggressively, and tolerate many habitats.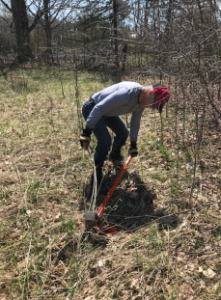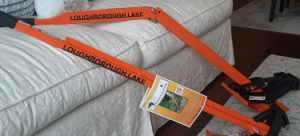 Lake Association Awareness & Outreach Campaign
The Dog Lake Association (DLA) reached out to over 150 residents who were not members of their Association. Each of these households received a package that included information about the work the DLA does to help keep their lake and lake environment healthy.
Loon Nesting Program
The Christie Lake Association Inc. built and deployed new platforms near areas where loons have historically nested around their lake. While loons are great swimmers, with feet positioned well back on their bodies, they aren't so good at walking. Hence, they build their nests very close to the shoreline. Even minor rises in water levels during spring nesting can flood their nests and, if water levels drop too much, they may abandon their nests if access from the lake becomes too difficult. With the high levels of flooding in the last few years, the loons on Christie Lake have been less successful at hatching their chicks. The Association is trying to address this issue by providing floating platforms for loons to nest on.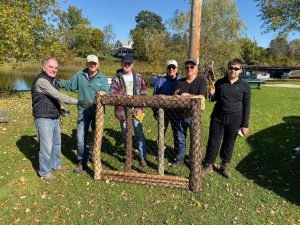 **
Daniel and Susan Gottlieb have been supporters of Watersheds Canada through funding native plant restoration projects and lake stewardship programs that help protect lakes and rivers. "Dan and I care deeply about the mission of Watersheds Canada. We are making this donation in support of lake stewardship. Freshwater conservation of this type is extremely important." -Susan Gottlieb
Watersheds Canada is a federally incorporated non-profit organization and registered Canadian charity (863555223 RR 0001). We are committed to providing programs to communities across the country that work to engage and help shoreline owners enhance and protect the health of lakes and rivers. To learn more about Watersheds Canada's lake stewardship programs, including the Natural Edge Program, Love Your Lake Program, and in-water fish habitat enhancement projects, please visit watersheds.ca/our-work or email info@watersheds.ca
Connect with us on social media! Facebook Twitter Instagram YouTube