by Monica Seidel, Digital Communications and Marketing Intern
Canada is home to thousands of water bodies that are home to every sort of creature – fish, turtles, invertebrates, frogs, herons, beavers, and dragonflies, to name a few. Over 90% of all lake life is somehow connected to the shoreline as it provides habitat, food, and a place to raise young.
Dragonflies are a common sight at many wetlands, rivers, and lakes, however, there is much more to them than their big eyes and beautiful colours. Have you ever wondered why you only see dragonflies for a few weeks in the summer? Dragonflies spend the majority of their life in the water as dragonfly nymphs, a life stage that can take between 4-7 years of their entire life. During this time, they are exclusively living in the water as they feed on prey and grow. Dragonflies are also laid in egg form in the water, with the female laying eggs on an aquatic plant or on the top of the water. Adult dragonflies emerge from the water in the summer and have just a few months to live as the winged beauties we have come to associate with wetlands and lakes. As adults, their primary goal is to find a mate and reproduce.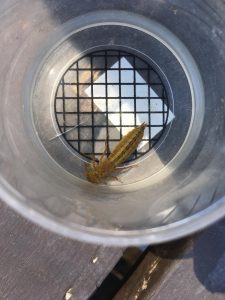 A dragonfly nymph.
Dragonflies are an excellent bio-indicator ("bio" meaning living indicator) of water health. Their entire lifespan is intricately tied to the water which means they need high water quality to survive to adulthood. They are susceptible to high levels of pollution, such as physical garbage, chemicals and fertilizer runoff, and sediment erosion which can cover and suffocate eggs and nymphs.
Throughout their life cycle, dragonflies are also food for many predators like frogs and birds. This means any toxins in their body will bio-accumulate in animals found higher up on the food chain. While a single dragonfly may not have enough toxins present in its body to kill it, a higher up predator like a frog or swallow may accumulate enough toxins from all of its diet of dragonflies and other insects, resulting in mortality. This bodes even worse for top predators like hawks and falcons that eat animals like frogs or swallows.
In this way, dragonflies are a bio-indicator for water health in two ways – they grow for many years in the water, and they are a source of food for other animals. Next time you see those beautiful adult dragonflies frantically flying around remember that they spend most of their life away from human eyes under the water. They are dependent on the shoreline and water health for their survival and their presence is an excellent indicator of the health of the entire food chain and water ecosystem.