by Nathaniel Holloway
I am a second year Environmental Studies major at Carleton University who has experience volunteering—and now working—with Watersheds Canada. My volunteering experience made conservation feel more accessible than I had previously thought, while my work experience only cemented this notion.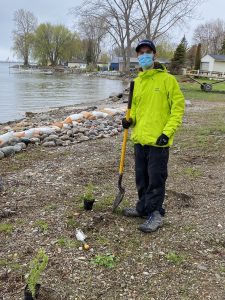 Being an Environmental Studies major, the focus of my degree is the Environment with a focus on legislation and problems facing different populations of the world. As such, I am very much used to learning about a "hands-off" approach to environmentalism. I have welcomed and embraced the opportunity for "hands-on" environmentalism and all the challenges it has to offer, specifically during the COVID-19 pandemic.
Through my work as a summer Environmental Technician student, I have learned about a whole host of native and non-native plant and tree species including common names, how to recognize and differentiate each species, and what conditions they need to grow. Meeting new people who are well versed in the identification of different flora and fauna has been useful for learning species differentiations. Planting in different terrains has taught me specific techniques and different needs for the planting of stock in each circumstance.
Further, I have learned much about gardening, including how to properly plant and pot stock, watering etiquette to avoid burning leaves, how to transport leafy plants to avoid windburn, and of course how to deal with certain pests we may have (I'm looking at you, gypsy moths!). These lessons will no doubt serve me well when I am tending my own garden.
Learning about the non-profit side of conservation has been eye opening, informative and will no doubt be useful for any of my future adventures in non-profits.