Thank You
We would like to thank all of our financial supporters who have donated to our organization this year. We certainly could not do what we do without your generous contributions!
3M;
Advanced Custom Fields;

Bass Pro Shops & Cabela's Outdoor Fund;

Bonneville Environmental Foundation;
Cade Associates Insurance Brokers Limited;
Canada Summer Jobs;
Canadian Wildlife Foundation;
Capra Design Ltd.;
CICan Clean Tech Internship Program;
Daniel and Susan Gottlieb Foundation;
Dell Technologies;
Echo Foundation;
EcoAction Community Funding Program;
EcoCanada;
Environment and Climate Change Canada;
Fisheries and Oceans Canada;
GlobalGiving;
Government of Canada's Environmental Damages Fund;
Great Lakes Local Action Fund;
Great Lakes Protection Initiative – Areas of Concern (AOC) Program;
HANSAmed;
Honda Canada Foundation;
L. Moore;
M. Reader;
Modern Niagara;
OFAH Zone E;
OFAH Zone F;
Ontario Community Environment Fund;
Ontario Trillium Foundation;
Ottawa Community Foundation;
Peterborough K.M. Hunter Charitable Foundation;
Rogers Foundation;
S. Lunn;
S.M. Blair Family Foundation;
South Frontenac's Lake Ecosystem Grant Program;
South Shore Co.;
Swish;
TD Friends of the Environment Foundation;
The Catherine and Maxwell Meighen Foundation;
The Daniel & Susan Gottlieb Foundation;
The Ontario Trillium Foundation;
The Sharbot Lake Group Ltd.
Thank you to our amazing partners, who have contributed to the health of our freshwater by working with us to deliver our programs across Canada.
Algonquin College;
Balsam Foundation;
Blue Fish Canada;
Boyne Regional Library;
Canadian Wildlife Federation;
Canaan-Washademoak Watershed Association;
Carleton Heights Public School; 
Carson Trout Lepine & Greenan – Lakes Association;
Carrot River Valley Watershed Association;
Cataraqui Conservation;
City of Greater Sudbury;
CPAWS-Manitoba;
Dog and Cranberry Lakes Association;
Farren Lake Property Owners Association;
Federation of Ontario Cottagers' Associations;
Friends of Stoco Lake;
Friends of the Tay Watershed Association;
Great River Network;
Greater Madawaska Public Library and Learning Centre;
Greater Sudbury Public Library;
Greening Communities Canada;
Greening Sacred Spaces;
Hastings Highlands Public Library;
Junction Creek Stewardship Committee;
Lake Networking Group;
Lake St. Peter Property Owners Association;
Lanark County Stewardship Council;
Maitland Tower;
Mississippi Lake Association;
Mississippi Valley Conservation Authority;
Mohawk Council of Akwesasne's Environment Program;
Municipality of South Frontenac;
Municipality of Tweed;
Muskoka Watershed Council;
Muskrat Watershed Council;
North Saskatchewan River Basin Council;
Pinegrove Productions;
Raisin Region Conservation Authority;
Re-imagining Atlantic Harbours;
Quinte Conservation;
Rideau Valley Conservation Authority;
River Institute;
Shawnigan Basin Society;
The Corporation of the County of Prince Edward;
The Land Between;
W.E. Gowling Public School;
Water Rangers;
White Lake Preservation Project.
Business Partnership Program
Watersheds Canada would not be able to protect freshwater in Canada without the support of our community and financial partners, including businesses. Big or small, international or local, CEO's, ESG managers or marketing directors – all business leaders have an opportunity to join the Business Supporter Program. Watersheds Canada is always open to discuss partnership opportunities with all other nonprofits and the private sector, including corporations, independent retailers, family-owned businesses, firms, agencies and industry associations. After all, freshwater protection is everyone's business!
Thank you to our business supporters: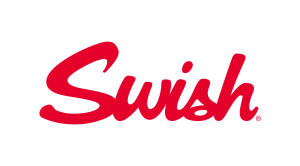 Swish – swish.ca