After an amazingly successful first year, we are excited to kick-off the second year of the Freshwater Stewardship Community with a presentation from Helping Nature Heal! Based out of Nova Scotia, Helping Nature Heal creates and restores beautiful, sustainable ecosystems that connect people with nature. Hear from founder Rosmarie Lohnes as she explores the benefits of rain gardens and shows you how nature can be powerful tool in adapting to coastal and shoreline climate change and increased erosion.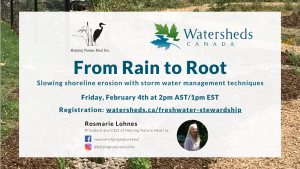 Improperly managed stormwater can create big issues on your property such as flooding and increased erosion. Learn how to create beautiful rain gardens and other techniques to manage stormwater on your property. Rosmarie Lohnes has been helping landowners in the Maritimes slow erosion and manage overland flow for over 20 years with her award-winning business, Helping Nature Heal Inc. Join Rosmarie for this free webinar to learn how you can improve the water management on your property and build a healthy landscape and shoreline for years to come!
About the Speaker: Rosmarie Lohnes, BA CoEn is the President and CEO of Helping Nature Heal Inc, an award-winning ecological restoration company based in Nova Scotia. She has been building nature-based erosion mitigation strategies in the Atlantic provinces since 2001. She has taken trainings in both Canada and the US for many years and has created her own unique methods adapted to the Canadian climate. Rosmarie has been teaching her methods to homeowners and special interest groups since 2019 through HNH's Shore Up program.