by Andres Clavier, Freshwater Stewardship Education Intern
Canada's commitment to preserving its pristine water bodies is reflected in its regulatory framework. The primary legislation governing boat discharge is the Vessel Pollution and Dangerous Chemicals Act. This law covers pollutants ranging from oil and chemicals to sewage from marine vessels. Under this Act, all vessels with installed toilet facilities are required to have a marine sanitation device on board. This device is intended to prevent the direct discharge of untreated sewage into the water. However, the Act does not specifically regulate greywater—wastewater from sinks, showers, and laundry.
At the provincial level, regulations can vary. For instance, British Columbia has started implementing stricter rules for the disposal of greywater from houseboats, recognizing the potential for such discharge to impact the local aquatic environment. While these regulations form a necessary backbone for environmental protection, they are not the full solution. There is still much to be done, especially when it comes to educating boat owners and operators about best practices to minimize pollution.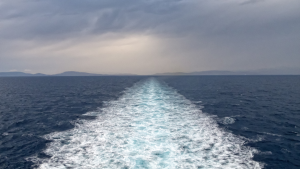 Best Practices to Minimize Pollution from Boat Discharge
Use Environmentally Friendly Products: Using biodegradable and phosphate-free soaps, detergents, sunscreens, cosmetics, and cleaners can significantly reduce the environmental impact of greywater discharge.
Minimize Discharge: Even greywater can negatively impact the water environment. It is always best to limit the amount of greywater produced and discharged. This could involve simple changes such as not letting the water run while doing dishes or brushing your teeth.
Install a Greywater Treatment System: Though not mandatory under current regulations, installing a greywater treatment system onboard can substantially minimize the impact of greywater on the environment. These systems treat greywater before it is discharged, removing harmful substances that could harm aquatic life.
Find a Pump Out Station: Many marinas offer pump-out stations where boaters can safely dispose of both blackwater (sewage) and greywater. Using these facilities can prevent potentially harmful substances from entering our freshwater systems.
Regular Maintenance: Maintaining your boat's sanitation systems is crucial to prevent leaks and accidental discharges. Ensure seals are intact, valves work properly, and there are no blockages.
Boating allows us to enjoy Canada's spectacular aquatic landscapes, but it also requires us to act responsibly. By following regulations and adopting proactive best practices, we can minimize our environmental impact and ensure these waterways remain clean and vibrant for generations to come. Please remember, regulations and practices are always evolving and vary from place to place, so always verify from an up-to-date and reliable source.
Additional Resources:
Vessel Pollution and Dangerous Chemicals Regulations (SOR/2012-69). Internet:

 

https://laws-lois.justice.gc.ca/eng/regulations/sor-2012-69/page-14.html#h-791569

R.R.O. 1990, Reg. 343: "Discharge of Sewage from Pleasure Boats", under Environmental Protection Act, R.S.O. 1990, c. E.19. Internet:

https://www.ontario.ca/laws/regulation/900343

BC Provincial Greywater Regulation (Section 13, Environmental Management Act). Internet:

https://www.burrardyachtclub.com/documents/Provincial-Greywater-Feb09.pdf