by Nathaniel Holloway
From the point of view of a twenty-one year old student, the future seems uncertain. While I am an optimistic person, it is hard to ignore the constant flow of warnings from scientists. These warnings make me worry for the survival of our lifestyle and—much more importantly—future generations. However, humans have historically developed technology to meet demands which were previously thought insatiable (e.g., the green revolution which attempted to intensify and perfect agriculture methods to increase yields of crops for a growing population). The optimist in me believes that humans will find ways to reverse the damage done to Earth's ecosystems, but I am also a realist in that I understand that remediating change is happening slowly and the Earth is only experiencing more ecosystem damage, species loss and warming at a faster pace.
These realisations can often have a negative impact on my mental health as a feeling of hopelessness and, to some degree, nihilism set in. During these times, I try to remember that nature can be resilient, that environmental awareness and activism is gaining traction, and that society's views and habits have changed and will continue to change at a faster pace. What I find most important is to not give into the bitterness and lose interest in becoming part of the solution—instead becoming part of the problem.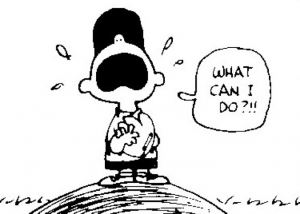 Photo credit: Ransan, 2012.
All of this said, I often come back to: "what can I do in this moment with the resources at my disposal?" While I cannot do much as I am still in my studies with minimal income, I do look to correct my own habits. I attempt to refrain from wasting electricity and water, purchasing products packaged in or made out of plastic as well as "impulse" buys and other unnecessary items. I carpool and refrain from driving whenever possible and only utilize air-conditioning when it is absolutely necessary. I also avoid the consumption of animal products and "problematic" resources (e.g., palm oil) due to the environmental impacts related to their cultivation. All of these actions can benefit the planet and lessen my Ecological Footprint.
While these actions may seem trivial when compared to the problems being tackled worldwide, I find it important to remember that I am only one person. Though I may not be able to change the world just yet, I can change what I think and do. I may not have much of an impact on the world, Canada, or even my hometown, but I can sure make a difference in my house, backyard, and perhaps with lots of hard work, my neighbourhood and local forests and waterbodies. That is what I hold onto this International Youth Day, August 12th.
References
Evenson, R. (2005). Besting Malthus: The Green Revolution. Proceedings of the American Philosophical Society, 149(4), 469-486. Retrieved from http://www.jstor.org/stable/4598956
Ransan, M. (2012). Be in the Know. So Danca. Retrieved from https://sodancapassion.blogspot.com/2012/01/what-can-i-do.html
Saxon, E., Roquemore, S., Boucher, D., Elias, P., Lininger, K., & May-Tobin, C. (2011). The Root of the Problem: WHAT'S DRIVING TROPICAL DEFORESTATION TODAY? (pp. 51-63, Rep.). Union of Concerned Scientists. Retrieved from http://www.jstor.org/stable/resrep00075.12