Al Best is the President of Carson, Trout, Lepine and Greenan Lakes Association, and has participated in Watersheds Canada's Love Your Lake program and Natural Edge program. Al was a strong advocate on his lake association to having the Love Your Lake program come in and provide free shoreline assessments to all property owners on the lake, and has chosen to participate in the Natural Edge program individually on his property.
Why were you interested in having your Lake Association participate in Love Your Lake?
This is our 44th summer on the lakes – we swim, fish, boat and canoe on the water and one of our favourite activities is to simply sit on the dock, watch and listen to the loons, and hear the rhythm of the waves slapping the shoreline.  As a long time property owner on the lake, I had noticed changes to the lake and surrounding lands–more development, some clear cutting of shorelands, decline in fishing quality, disappearance of spawning bass.  At first there were 50 to 100 bass "nests" in front of our property every year and then the quickly declined to zero over a six or seven year period. 
What impacts have you seen on your lake?
The biggest impact on our lake is the growing awareness that we have a crisis on our hands.  Property owners are connecting with each other because we have common concerns. We are educating ourselves and each other.  
What actions have occurred because of Love Your Lake?
We are focused on water quality issues and identifying appropriate stewardship actions.  We look out for invasive species. We serve on a Citizen's Advisory Committee for MNRF looking at the status of sport-fishing in our zone and we report results of all these activities to our members.
What stood out to you about the Love Your Lake program and the Watersheds Canada staff during the assessment?
Both the detail involved in the survey and the amazing satellite technology were impressive.  It was no small achievement to study the shoreline, record the details, match pictures to properties, and report to all property owners.
What would you tell someone who is considering participating in Love Your Lake?
Time's running out, folks.  Sadly, we are too soon old and too late smart.  Do it now! The environmental crisis is of our making.  Take action. We have a leadership crisis–take the lead.
How has this changed how you look at and manage your property for lake health?
Love Your Lake identified positive things about the property and urged us to continue maintaining our shoreline buffer.  They suggested keeping all native vegetation and enhancing it where possible. They had some suggestions to help us protect tree roots and identified methods to manage some minor erosion. I am more attuned to how we interact with the land and the lake.  I am now inclined to leave a fallen tree in the lake right where it fell.  I am more aware of the impact our shoreline actions have on water quality and wildlife.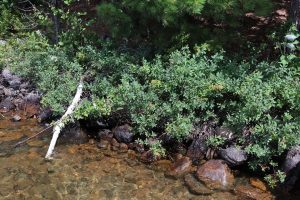 Al's naturalized shoreline.
What do you see as the top issue(s) facing your lake and lake use?
The top issue is water quality.  Shoreline stewardship is critical to maintain good water quality.  Some people draw their drinking water from the lakes, fish and wildlife are affected, and, to take an economic approach, property values are affected by water quality.  Climate change is top of mind these days and the deniers are fading away. Shoreline stewardship can be a help in this battle. We over-exploit our natural resources. This has been a human failing and we have to accept responsibility for what we have done and act now to restore a healthy equilibrium to our environment.
What kept you coming back to the programs Watersheds Canada offers?
Watersheds Canada's approach is education and support.  Their programs fall into a natural logical sequence. Each step along the way leads you to the next step. To me, there is no question that their most important work is education.  Many seemingly innocent actions people take and have taken such as bathing in the lake, releasing unused baitfish and worms.. this is actually very harmful.  Most people will adopt more appropriate behaviours when they are informed. Watersheds Canada is an organization whose time has come.  The science is clear. Watersheds Canada is spreading their message across the country.
___
To learn more about having the Love Your Lake program come to your lake, please visit loveyourlake.ca
To book your free site visit and receive voluntary recommendations to naturalize your shoreline property, please visit naturaledge.watersheds.ca