It was clear from the first day's morning keynote speaker, Rebecca Thomas, that the Latornell Conservation Symposium was taking the current environmental and social crises seriously. Rebecca, a Mi'kmaw poet and activist, effortlessly blended her personal story with jarring poetry that covered topics of identity, the "creation" of Canada, and including Indigenous perspectives. Rebecca taught about Netukulimk – "I cannot take too much of anything" – and made everyone think about what good Canadians do.
Following Rebecca's keynote, attendees attended workshop and breakout sessions and had the opportunity to network with industry and business leaders, non-profit organizations, and student presenters and moderators. Each workshop related back to the Symposium's 2019 theme: Currents of Change – Inspiring, Creating, Transforming.
Multidisciplinary perspectives and experiences were showcased, with workshops and field trips focusing on marketing, soil health, watershed management, green technologies, and climate change. The conference was well attended by conservation authorities, businesses, and government employees who offered their case studies, difficulties, and successes over the past year. Of particular enjoyment were presentations by the Lake Simcoe Region Conservation Authority on modern marketing, Watersheds Canada on restoring shorelines with the help of technology, and the forest therapy walks.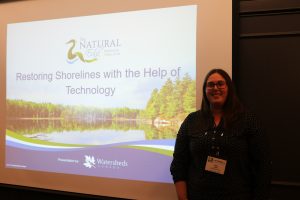 Chloe Lajoie of Watersheds Canada presented at the 2019 Latornell Conservation Symposium.
The Latornell Symposium makes several strong strides to have a positive social, economic, and environmental impact, despite its high attendance. Throughout the Symposium, there was a focus on meaningful and intentional Indigenous involvement, including speakers, Indigenous Artisans, and opening and closing ceremonies by Jake Charles of the Chippewas of Georgina Island First Nation. Local and in-season food was sourced for all meals, including the Fall Harvest supper on Wednesday night. Carpooling is facilitated on the Latornell website, and the Symposium is powered by 100% clean, renewable energy through Bullfrog Power. To offset the estimated 128 tonnes of carbon dioxide used to run the conference (including transportation of the delegates), over 4,000 trees are planted annually.
Monica Seidel of Watersheds Canada was able to attend the Symposium through a generous granting program.
Watersheds Canada would like to thank the Latornell Conservation Symposium Grant Program for funding the attendance of our staff member Monica Seidel, as well as inviting Chloe Lajoie to present about Watersheds Canada's Natural Edge program and app funded by the Daniel and Susan Gottlieb Foundation. Chloe leads the Natural Edge program that restores shorelines across Canada. Watersheds Canada staff work with property owners and community groups to create a planting plan suited to their preferences and property traits (sun, moisture, and soil type). This is all done with a self-developed app. By planting native trees, shrubs, and wildflowers, people can help stabilize Canada's shorelines while enjoying a beautiful natural view. To book a free site visit and learn more about the Natural Edge program, visit https://naturaledge.watersheds.ca