Media release
Love Your Lake Program Celebrates Expansion
April 9, 2020, Perth, Ontario – Watersheds Canada and the Canadian Wildlife Federation (CWF) are celebrating another successful year of their Love Your Lake program as it expanded to British Columbia in the summer of 2019.
"The Love Your Lake program helps engage lake communities, bringing awareness on the importance of taking individual actions on their properties. If everyone focuses on the small changes, then collectively they can improve water quality and the overall health of their lake," says Melissa Dakers, Watersheds Canada Lake Stewardship Coordinator.
Love Your Lake was delivered in Ontario, Saskatchewan, and British Columbia in partnership with six organizations:
Carrot River Valley Watershed Association
City of Greater Sudbury
Muskoka Watershed Council
North Saskatchewan River Basin Council
Southern Interior Land Trust
Watersheds Canada
Over 2000 shoreline properties were assessed. Through the Love Your Lake program, trained surveyors work with local organizations to evaluate individual properties along a lake. Property owners then receive a personalized property report which includes voluntary actions the property owner can take to improve the health of their shoreline and their lake. Lake associations also receive a lake summary report which summarizes the observations recorded around the lake including the types of development, the degree of erosion, the presence of invasive species, and voluntary community level stewardship opportunities.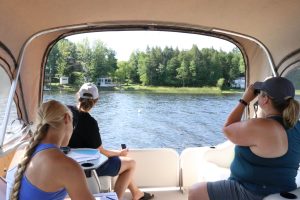 Photo One: Trained staff from Watersheds Canada, a Love Your Lake regional partner, conduct shoreline property assessments from a boat.
These reports are the key to improving watershed health and maintaining lakes for the benefit of humans and wildlife. Watersheds Canada, a regional partnership in Eastern Ontario, assessed 475 properties in 2019. The Love Your Lake program has reached 39,567 properties on 163 lakes since its inception in 2013.
"The expansion of the Love Your Lake program into British Columbia was extremely gratifying to CWF and our partners," said Terri-Lee Reid, Canadian Wildlife Federation Conservation Researcher. "The Love Your Lake program is an excellent example of how personal action can make a huge difference for the environment. By providing shoreline property owners with ideas they can implement on their own properties, the program helps improve the health of their shoreline and their lake."
In addition to the support and hard work of local organizations across Canada, the Love Your Lake program receives generous foundation support from the McLean Foundation, the Rogers Foundation, and the Canadian Wildlife Foundation. This support is crucial in expanding the program across Canada and ensuring local organizations have the support they need to deliver Love Your Lake in their region. As part of an ongoing awareness campaign, Love Your Lake partners in 2020 are continuing to encourage shoreline property owners to take personal action on their property to help improve their shorelines. To get your lake involved with Love Your Lake, visit: LoveYourLake.ca/Get-Involved
Watersheds Canada and CWF provide training, materials, and regional funding to interested community groups to deliver the Love Your Lake program. This includes a training program, standardized shoreline assessment datasheet, and follow-up support on recommendations and additional resources. Love Your Lake can be applied to any shoreline community and is a great way to engage property owners in stewardship discussion and action.
Visit LoveYourLake.ca to learn more ways to improve your shoreline and lake quality.  #LoveYourLake
About Watersheds Canada
Watersheds Canada is a national non-profit charitable organization that works with landowners, communities, and organizations to enhance and protect lakes and rivers through developing effective and transferable long-term solutions. Watersheds Canada envisions people caring for their waters, resulting in clean, healthy lakes and rivers to support humans and wildlife for years to come. Learn more at Watersheds.ca
About the Canadian Wildlife Federation
The Canadian Wildlife Federation is a national not-for-profit charitable organization dedicated to ensuring an appreciation of our natural world and a lasting legacy of healthy wildlife and habitat. By spreading knowledge of human impacts on the environment, developing and delivering education programs, sponsoring research, promoting the sustainable use of natural resources, recommending policy changes, and co-operating with like-minded partners, CWF encourages a future in which Canadians can live in harmony with nature. For more information, visit CanadianWildlifeFederation.ca
-30-
Contacts:
Barbara King
Executive Director
Watersheds Canada
king@watersheds.ca
Terri-Lee Reid
Conservation Researcher
Canadian Wildlife Federation
terrileer@cwf-fcf.org