by Robert Pye, Executive Director
It's time for an ugly Christmas sweater and an eggnog mustache smile as we share the holiday cheer with our great friends and supporters of Watersheds Canada. 
Under many Christmas trees this year are the stunning images of otters, beavers, monarch butterflies, brook trout and wild columbine. These creations by Canadian artists, were delivered from Watersheds Canada, signed with care by our symbolic "gift of nature" givers, and addressed in honour of recipients who also appreciate nature and the impact of a meaningful Christmas present. It's better to give than to receive but any purchase from our gift catalogue is a win-win, even on a one-way gift exchange.  
This year's participation in our "Maitland Match" (launched before Giving Tuesday) and our gift catalogue promotion, achieved more tax deductible dollars in support of Watersheds Canada's work to protect our lakes and rivers. We also hope that our year-end reminder will help us get even closer to our fundraising goal. Please help share our appeals. 
In the past two months, Watersheds Canada has been dreaming of a green Christmas – green as in environmentally sustainable in the wake of increased development. Green space protection is what tens of thousands of taxpayers put in their letter to Ontario's legislative Pole this holiday season – and over 5,000 of those MPP-addressed letters were delivered through Watersheds Canada's Save our Shorelands campaign.
Thanks to everyone who cared enough to get informed and involved in making their voice heard. While hundreds of people were visiting our website to submit an advocacy letter, Watersheds Canada made two official submissions to the Ontario legislature. Among other points, we stressed that sustainable development depends on effective site plan control for shoreland naturalization and overall, the leadership and knowledge of municipalities and Conservation Authorities.
The Ford Government passed the "More Homes Built Faster Act" but the call for grassroots action continues – and so does Watersheds Canada's promise to help municipal leaders and waterfront property owners with as many resources as possible. 
Shorelands, farmlands, wetlands and all green spaces, including rural Ontario, will be impacted by the prematurely passed Bill 23, so we need to remain vigilant. Watersheds Canada proudly acknowledges all organizations that helped mobilize their supporters. This kind of unity and ambition — whether it comes from a city condo, suburban bungalow, lake house, or farmhouse — brought out the best in people who always feel a deep sense of connection with natural environments. 
Working together is the message Watersheds Canada brings into 2023 as we look forward to welcoming new partnership opportunities as well as building on the outstanding support we receive from organizations like Canadian Wildlife Federation and the Federation of Ontario Cottagers' Associations. 
If your holidays provide fireside reading time, we hope you'll take a few minutes to learn about all of our programs and partners described in our newest Annual Report. It's a page turner because every program illustrates the positive impact your support generates for Canada's freshwater future. 
Happy Holidays from all the staff and Board of Directors at Watersheds Canada.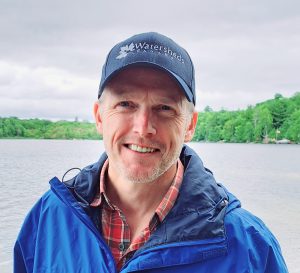 Robert J. Pye
Executive Director