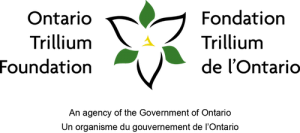 MEDIA RELEASE                                                                                                                                             March 26, 2021
Watersheds Canada receives $71,000 OTF Grant to Help Community Groups Enhance Fish Habitat
Perth, ON – In partnership with the Lanark County Stewardship Council, Watersheds Canada is proud to announce the creation and distribution of a free Fish Habitat Enhancement Toolkit beginning in March 2021.
Generously funded by the Ontario Trillium Foundation (OTF), the Fish Habitat Enhancement Toolkit will provide grassroots organizations and community groups with project guides, updated protocols, and accompanying videos to identify suitable sites and successfully enhance various types of fish habitat projects, including:
Walleye spawning bed enhancements;
In-water fish habitat enhancement with woody debris; and
Cold-water creek enhancement projects.
"Many volunteer groups are looking for nature-based solutions to restore local fish habitat but they don't know where to start Thanks to funding from OTF, we are now able to bridge that gap by providing groups with the tools and knowledge they need to organize their own fish habitat enhancement projects." – Melissa Dakers, Lake Stewardship Coordinator, Watersheds Canada
Watersheds Canada is a registered Canadian charity committed to providing programs to communities across the country to engage and help individuals enhance and protect the health of their lakes and rivers. Since 2002, they have worked with grassroots organizations to deliver freshwater stewardship programming, shoreline naturalizations and assessments, and in-water habitat restorations. To access the Fish Habitat Enhancement Toolkit, visit watersheds.ca
The OTF is an agency of the Government of Ontario, and one of Canada's leading granting foundations. OTF awarded $108 million to 629 projects last year to build healthy and vibrant communities in Ontario.
Media Contact:
Melissa Dakers
Lake Stewardship Coordinator
Watersheds Canada
dakers@watersheds.ca
-30-
PDF download: Media release – Watersheds Canada receives $71,000 OTF Grant to Help Community Groups Enhance Fish Habitat