Media Release – Gifts to Restore Canada's Freshwater
December 11, 2019 — A local non-profit has created a new way for people to support freshwater resources and wildlife species. Watersheds Canada, based out of Perth, Ontario, has launched a gift catalogue fundraiser featuring symbolic adoptions and unique gifts that are perfect for the holiday season.
"I was thrilled to support an important local organization like Watersheds Canada for my holiday purchases this year", said Kristina Inrig.
Kristina has been a supporter of Watersheds Canada for over five years, and was excited to hear about the new meaningful gift options that give back to nature and connect people with an important initiative at the same time. "A symbolic adoption and habitat restoration gifts are a meaningful way to share my love of nature with family members and friends who are hard to buy for and don't need unnecessary plastics and more stuff", said Kristina.
Payton Muro, a Canadian nature artist, donated her time and skill to create the watercolour paintings included with every symbolic adoption and unique gift. "Water is the most important and critical resource on Earth. To help Watersheds Canada spread their message and bring attention to their cause is truly an honour", said Payton.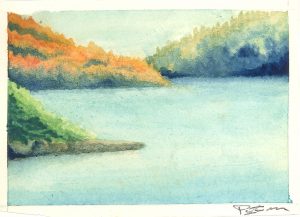 Payton created ten unique watercolour postcards for each of the catalogue's unique gifts and symbolic adoptions.
"I was asked to create these works based on iconic species and landscapes. I chose to use watercolour both because I think it is one of the most beautiful mediums and also because of how fitting it was. When designing the images I thought of my own interactions with the different species and how to best display their unique characteristics."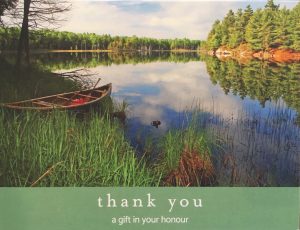 Each gift comes with a beautiful  honour card ready for personalizing and giving as a gift.
Watersheds Canada is a small non-profit organization and registered Canadian charity that raises every dollar each year from donations, grants, and foundation support. What has always set Watersheds Canada apart is the dedication to local communities. By taking the time to listen to the communities in which programming is provided, Watersheds Canada ensures delivery is specific, impactful, and as efficient as possible.
The gifts will resonate with Canadians from coast to coast. "I have spent countless hours exploring and trekking down rivers and across lakes by canoe and hope Watersheds Canada can help people to find their own appreciation for this country's beautiful rivers and lakes and continue to educate all of us as to how we can do our part to sustain these critical ecosystems", said Payton.
Items can be purchased online, or at the Watersheds Canada office on 115-40 Sunset Blvd, Perth, Ontario. For more information, please contact Monica Seidel at seidel@watersheds.ca or visit https://watersheds-canada.square.site
-30-