MEDIA RELEASE                                                                                              October 15, 2019
Watersheds Canada and the LUSH Charity Pot
Pine Lake – In-Water Fish Habitat Enhancement
Funding from the LUSH Charity Pot has allowed for the in-water fish habitat enhancement in Pine Lake, about 60 minutes west of Perth in the Township of North Frontenac, Ontario. The project was completed thanks to twelve members of Watersheds Canada and local volunteers.
Twelve bundles of brush were built and deployed on Tuesday, October 15, 2019. Underwater woody debris is a healthy component of lake environments. Sunken logs, trees, branches, and root balls provide excellent habitat for wildlife, including fish, turtles, birds, invertebrates, and more. Brush piles can provide fish, such as perch, bass, and walleye, with a food source, as well as shaded areas to rest, spawn, and escape predators.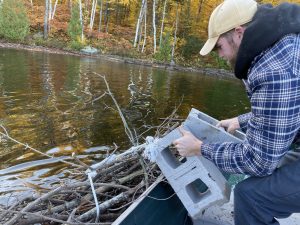 Placing a brush bundle in Pine Lake.
"Watersheds Canada is thankful to the many volunteers who came out today to enhance the fish habitat on Pine Lake. We would also like to thank the LUSH Charity Pot for their support of our fish habitat enhancement projects this year", said Melissa Dakers, Lake Stewardship Coordinator at Watersheds Canada.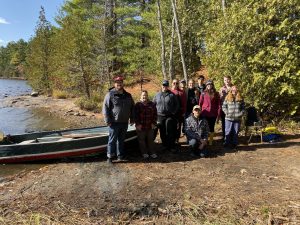 The Watersheds Canada team and local volunteers made the day a success.
This project was spearheaded by Nathaniel Holloway who volunteered as a Venturer Scout on a 2016 Watersheds Canada brush bundle project on Christie Lake. Nathaniel contacted Watersheds Canada earlier in 2019 to see how he could improve the fish habitat on his cottage lake, Pine Lake. "I was pleasantly surprised when Nathaniel contacted me this year to initiate the project. It is great to see the lasting impact these projects have in the community well past the initial event", said Melissa.
This project is part of Watersheds Canada's targeted focus on enhancing freshwater wildlife communities in 2019. This lake was identified to have been impacted by fish habitat loss. By working with volunteers in freshwater areas that are in need of habitat enhancements, the fish and wildlife species living in those ecosystems will be supported. Woody debris was re-introduced to Pine Lake to improve the fish habitat.
For more information about this project, please contact Melissa Dakers at dakers@watersheds.ca or visit www.watersheds.ca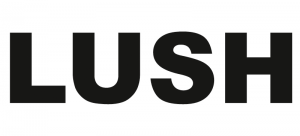 -30-