March 7, 2022, Combermere, Ontario – Cold winter nights in January made conditions perfect for the further restoration of a historic trout spawning bed on Diamond Lake in the Madawaska Valley.
They also made for the perfect outdoor classroom for Liam, a grade four student who joined the restoration efforts along with his father, Stas, and grandfather, Paul. Liam will be the fourth generation of his family to live on and enjoy Diamond Lake, a lake that he likes to fish on with his family.
"I came today because I thought it would be fun. Fish need a place to lay their eggs so we are putting out the smooth rocks so they can do that", says Liam.
Stas, Liam's father, was excited to bring Liam out for the day. "It is important for me to bring Liam out for this restoration work so hopefully we bring fish back to the lake and he can grow up fishing on the lake like I was able to do", says Stas. "I want to give back to the lake community that has been central to my family for many generations".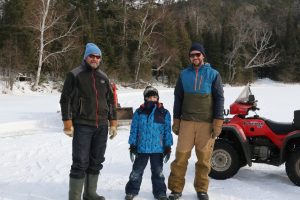 The Shulist family were just some of the community volunteers who came together on February 1, 2022 to restore the trout spawning bed. In total, 11 members of the community worked together to move the rock across the ice using a tractor, skidoos, ATVs, and sleds and spread it onto the location above the bed. The rock will fall into place when the ice melts this spring.
This added rock in combination with the brushing and washing of the spawning bed that took place in fall 2021 means the bed has a good chance of recovery. Recently the bed suffered from siltation which negatively affects the spawning of trout because they are a very sensitive species. When silt covers their eggs, it prevents them from being adequately oxygenated. This increases embryotic (early-stage development) trout mortality.
The Bass Pro Shops & Cabela's Outdoor Fund donated critical funds to restore the trout spawning bed. The project was possible because of Diamond Lake property owners and volunteers, Madawaska Valley Fish and Game Club, Watersheds Canada, Bathurst Burgess Drummond and Elmsley Fire/Rescue Station, Ministry of Northern Development, Mines, Natural Resources and Forestry (MNDMNRF) Pembroke, and the Ontario Federation of Anglers and Hunters (OFAH) – Zone F.
This project has been in the works since 2015 when Kirby Punt, now retired MNDMNRF biologist, observed the noticeable decline in the trout population and poor quality of the historic spawning bed. Kirby approached Watersheds Canada to see if there was anything that could be done. The lake trout of Diamond Lake are one of only 12 cold water trout lakes left in Renfrew County, and this restoration project is crucial to the survival of this population.
"It was such a wonderful culmination of many years of collaboration and hard work to get to this point", says Melissa Dakers, Habitat and Stewardship Program Manager at Watersheds Canada. "I am thankful to the residents and volunteers on Diamond Lake for all of their help in completing this project as we work to help the lake trout population recover."
The project on Diamond Lake is Watersheds Canada's first trout bed restoration project. In partnership with grassroots organizations and local volunteers, Watersheds Canada has completed many fish habitat restoration projects across Eastern and Central Ontario over the past eight years, including walleye spawning bed enhancements, cold-water creek enhancements, and in-water habitat enhancements through the deployment of brush bundles (woody debris).
About Watersheds Canada
Watersheds Canada is a national non-profit charitable organization that works with landowners, communities, and organizations to enhance and protect lakes and rivers through developing effective and transferable long-term solutions. Watersheds Canada envisions people caring for their waters, resulting in clean, healthy lakes and rivers to support humans and wildlife for years to come. Learn more at Watersheds.ca
About the Bass Pro Shops and Cabela's Outdoor Fund
Under the visionary leadership of founder Johnny Morris, Bass Pro Shops and Cabela's is leading North America's largest conservation movement. Together with our partners in conservation, Bass Pro Shops and Cabela's is positively shaping the future of the outdoors through donations, grant-making and advocacy. The 501c3 Outdoor Fund raises funds to support conservation efforts by activating more than 200 million passionate sportsmen and women rounding up their purchases in Bass Pro Shops and Cabela's stores and online.
-30- 
Media Contact
Melissa Dakers
Habitat and Stewardship Program Manager
Watersheds Canada
dakers@watersheds.ca