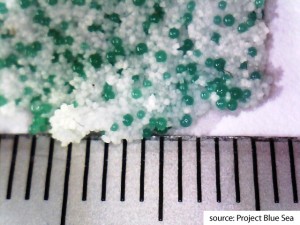 Written By: Brent MacDougall
In today's realm of environmental awareness, the majority of citizens would be unlikely to discard plastic directly into our fresh and oceanic water systems. However, unknowingly ordinarily environmentally conscious individuals may be polluting our water systems through washing their face, brushing their teeth or scrubbing their body. The reason individuals may be performing an act of pollution is due to one word, "microbeads"!
Now, you may ask what is a microbead? Although, definitions and measurement techniques may vary, microbeads are defined by Environment Canada as "Synthetic polymer particles that, at the time of their manufacture, are greater than 0.1 μm and less than or equal to 5 mm in size which can vary in chemical composition, size, density and function" (Environment Canada, 2015). Microbeads have been manufactured for a variety of purposes including; for use in personal care products, cleaning products, printer toners, as abrasive material in plastic blasting, for use in anti-slip plastic products, as well as for industrial applications (e.g. oil and gas exploration, textile printing, and automotive molding).
One may ask if microbeads are so small, how are they having such a large impact on our aquatic environment? Well, to begin, it is precisely due to their extremely small size that microbeads are having such a large and currently irreversible impact on our ecosystems. Due to their small size, a portion of microbeads from "down the drain" products are likely to enter the environment even with the most advanced wastewater treatment procedures. You may have noticed I compared microplastics to microbeads, although technically different and with definitions varying based on size limits, in either case it is safe to think of extremely tiny pieces of plastic. Within the environment it is almost impossible to distinguish between microbeads and secondary microplastics. Most studies currently only focus on total microplastic concentrations, therefore calculating the contribution of solely microbeads versus other small plastic litter is not possible. One study on microbead contribution to plastic litter has conservatively estimated that the use of microbeads in only liquid soap resulted in the emission of 263 tonnes per year of polyethylene microbeads in the United States (Gouin et al., 2011)
Microplastics have been measured throughout Canada and the World, including in waters, sediments, soils, deep sea sediment deposits and ice cores. The effects of microbeads and microplastics on organisms and the environment can be summarized in three categories from scientific literature;
Physical Effects (Blockages and external/internal attachment in organisms)
Residual Chemical Effects (Chemicals present during microbead synthesis)
Absorbed Pollutant Effects (Persistent Organic Pollutants, Pesticide, etc. absorbed by microbeads from the environment)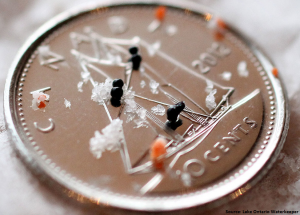 Additional effects described in literature include uptake by a multitude of organisms (birds, fish, invertebrates and zooplankton), translocation from the intestinal tract into tissues, food-web transfer, embryonic development effects, cellular and sub-cellular effects, as well as transport of pollutants. Due to the fact that microbeads can vary in shape, size and density, some microbeads may float on water surfaces, in the water column, or settle in sediments leaving all organisms that utilize the water vulnerable to their effects. The concentrations of microplastics in the environment are expected to increase, due to mismanaged macro plastic debris and breaking down of existing plastic debris.
There is however, good news in terms of government regulation and consumer's push on industry to reduce the use of microbeads. As early as 2009, former Dutch Minister of Environment, Jacqueline Cramer, was a political leader in drawing the attention of the Dutch government, European Union and United Nations Environment Programme to the issue of microplastics and microbeads. Thank-you! On December 28th, 2015 Barack Obama signed a bill prohibiting companies from manufacturing or using microbeads in common personal care products. In Canada, the House of Commons voted in March 2015, unanimously to take measures to add microbeads to the List of Toxic Substances in the Canadian Environmental Protection Act, 1999. A thorough scientific review of microbeads occurred in July 2015, which concluded that microbeads should be considered toxic. This would allow preventive measures to reduce microbead release to be enacted. Since then the Canadian Federal Government has decided to regulate microbeads under the Chemicals Management Plan (CMP). Decisions on how to manage harmful chemicals may linger for long periods of time under the CMP process. Often times when risk assessments have been completed, risk management measures often take years to be finalized. Hopefully, microbeads will not become another stalled chemical substance in Canada's Chemicals Management Process.
What can I do to reduce the amount of microbeads released into the environment? Well, to begin you could check your current personal care products to determine if they contain microbeads. You can check the following Product Lists, Look for the Zero plastic inside sticker, or utilize the Beat the Microbead App provided by beatthemicrobead.org. Key ingredients to watch out for include "polyethylene" and "polypropylene" as both are simply types of plastic. Additionally, when purchasing new products look for natural ingredients such as nut shells and salt crystals in place of plastic alternatives. Finally, you could consider signing a petition or writing a letter to your local Member of Parliament urging them to consider more immediate action concerning the phase out of microbeads from personal care products and other applications. I would highly  encourage everyone to consult Environment Canada's scientific review entitled Microbeads – A Science Summary for further details. We cannot change the amount of microbeads we have already released into the environment, however individually and collectively we take active steps to reduce the amount of microbeads released in the future.
References
Environment and Climate Change Canada. Microbeads – A Science Summary. (July, 2015). https://www.ec.gc.ca/ese-ees/default.asp?lang=En&n=ADDA4C5F-1
Gouin, T., Roche, N., Lohmann, R., Hodges, G. (2011). A thermodynamic approach for assessing the environmental exposure of chemicals absorbed to microplastic. Environmental Science & Technology, 45(4), 1466-1472.