Written by: Chlöe Lajoie, 2017
Spring is here! That means that it's time to start spending more of your days outdoors. Have you ever noticed how you feel better, both mentally and physically, when you spend some time in nature? There's a reason for that: there are many health benefits related to being outside.
Vitamin D
Vitamin D is an essential vitamin that your body requires to function properly; without it, you're at risk of muscle weakness, increased blood pressure, cardiovascular disease, autoimmune disorders, and even cancer. Vitamin D is unique because its main natural source is the sun. In order to get your daily dose of vitamin D, it is recommended to get 10-30 mins of sun exposure. Spending this short amount of time in the sun is well worth it!
Mental Health
Being outdoors has a number of positive effects on your mental health. It aids in lowering depression, reducing stress, and increasing your focus.
With current increases in depression and anxiety related illnesses, studies show that simply walking outside in nature can reduce stress and increase positivity which, in turn, reduces feelings of depression. Vitamin D, which we know comes from the sun, has been linked to depression levels; low vitamin D levels = a higher chance of depression. So get outside on your lunch break to give yourself a mental boost for the afternoon.
Eye Health
Myopia, more commonly known as nearsightedness, is a refractive error of the eye which causes one to have trouble seeing objects in the distance. It's marked by having difficulty seeing road signs or reading from a chalkboard; however, reading objects up close, such as a computer screen or book, is perfectly clear. Doctors feel it is partly the result of increased computer and TV time and according to a study by the National Eye Institute, myopia has increased from 25% to 41.6% between 1971 and 2004.
Being outside gives your eyes a rest from the strain of looking at a computer or watching television, so remember to take breaks at work and head outside to help keep your eyes healthy.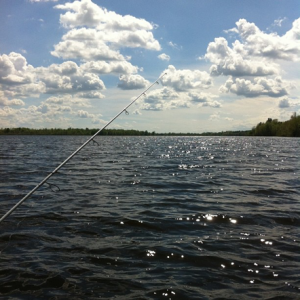 Air Quality – Clean Air
After being stuck inside all day, there's nothing better than a breath of fresh air! It seems to give you that extra boost of energy just when you need it, and there's a reason for that. Simply put, there is a higher concentration of pollutants present in indoor air compared to outdoor air, largely due to poor ventilation.
Outdoor air contains fewer pollutants since gases and particulate matter are diluted due to the larger area they have to spread out. In addition, trees, shrubs and other vegetation provide clean air through absorption of gases and deposition of particulates onto leaves. Air pollutants such as gases (ozone, and oxides of both nitrogen and sulfur) and particulate matter can have negative effects on our health. They can affect our respiratory systems by causing asthma, bronchitis, and emphysema. Therefore, it's best to spend as much time as you can outside to reduce the amount of pollutants you breathe in.
Exercise
It's common knowledge that eating healthy plus exercising regularly improves our overall health. A great way to accomplish this is by getting outdoors. It's easier to exercise when you step outside. Whether it's walking, hiking, kayaking, biking, or swimming you are exerting some form of energy. Furthermore, a study published in 2013 in Extreme Physiology and Medicine concluded that exercising outdoors is more effective than exercising indoors as you will increase your physical activity levels without realizing the amount of energy exerted. Exercising outdoors involves terrain challenges which you don't perceive to be as hard and tiring as when you increase the resistance or speed on a cardio machine.
So take the time to get out and enjoy nature with all the benefits it has to offer!!
Sources
https://www.allaboutvision.com/conditions/myopia.htm
https://annualreviews.org/doi/full/10.1146/annurev-publhealth-032013-182443
https://www.businessinsider.com/scientific-benefits-of-nature-outdoors-2016-4/#5-better-vision-5
https://extremephysiolmed.biomedcentral.com/articles/10.1186/2046-7648-2-3
https://www.health.com/mind-body/health-benefits-of-nature
https://www.livestrong.com/article/185502-outdoor-air-vs-indoor-air/
https://www.psychiatryadvisor.com/mood-disorders/nature-cognitive-anxiety-depression-mood/article/448018/
https://thetrek.co/scientifically-supported-reasons-get-outside/
https://universityhealthnews.com/daily/depression/10-vitamin-d-deficiency-symptoms-that-you-can-identify-yourself/
https://www.uofmhealth.org/news/archive/201409/walking-depression-and-beating-stress-outdoors-nature-group