November 1, 2022, Renfrew, Ontario – They say good things come to those who wait, and the walleye on Muskrat River have certainly done their share of waiting.
Since 2000, the Muskrat River in Renfrew County, Ontario has seen various stages of rehabilitation completed to help the once thriving walleye population. Most notably, stones were added to the spawning bed under Ministry of Natural Resources direction.
In recent years, the Muskrat River suffered a flooding event which silted out the walleye spawning bed. Since that event, spawning numbers have drastically decreased. Because walleye is a very sensitive fish species, siltation negatively affects their spawning beds. Silt covers the eggs, preventing them from being adequately oxygenated. This increases embryonic (early-stage development) walleye mortality.
Local community groups and volunteers knew something more needed to be done for their cool water fishery lake.
"In 2021, we had the best walleye spawning I've seen in a long time", said Janet Springer, a local resident and volunteer who monitors the spawning beds each year for activity. "What's important during spawning is to see a mix of small and big walleye which indicates a healthy, reproductive population. In 2022, we saw no activity on the bed."
"I know that walleye is very important on the lake", said Sue Ward of the Olmstead Jeffrey Lake Association (OJLA). "Because we cannot stock the lake, the only way we can help the fish is through maintenance. Maintenance, beauty, and health of the lake is at the centre of OJLA's mandate. Without Watersheds Canada, we were at a loss on how to proceed with this project."
Ward said that the OJLA group had talked about this project idea for years with no traction, so having Watersheds Canada involved was critical for the project's success.
"This community-led project benefits the walleye and other fish that live on this lake, as well as the people who visit and enjoy these lakes", said Melissa Dakers, Habitat and Stewardship Program Manager at Watersheds Canada. "This project was a great way for people to get involved and help the very thing they care about in their community. We are honoured to play a role in making this possible."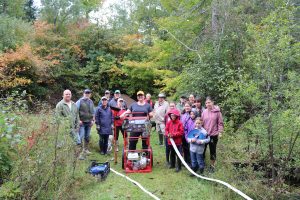 With approval from the Ministry of Natural Resources & Forestry, the restoration of the historic walleye spawning site was completed in two steps in fall 2022. First, community members and staff swept the bed to stir up the silt. Next, volunteers came through with a power hose to push the silt downstream into a silt curtain. The gas-powered water pump and hoses were lent thanks to Ontario Federation of Anglers and Hunters (OFAH) – Zone F. A silt curtain was placed downstream at the end of the spawning bed where the Muskrat River opens up into Jeffrey Lake. The curtain minimized impacts on the system as it captured silt which was later disposed of on land.
This project will restore the local walleye spawning bed, allowing for a population increase over the next few years. Due to the previous enhancement decades ago, the spawning bed has adequate substrate, and washing the bed will bring it back to its original state. This rehabilitation event also brought the community together, strengthening their efforts to ensure Olmstead and Jeffreys Lakes remain healthy for future generations. Monitoring of the spawning bed will continue by volunteers and staff in early spring 2023.
This fish habitat enhancement project was possible thanks to a grant from the Bass Pro Shops and Cabela's Outdoor Fund, and strong community support and involvement from Olmstead Jeffrey Lake Association, Muskrat Watershed Council, OFAH Zone F, Algonquin College – Environmental Technician Program from the Pembroke Campus, and Watersheds Canada.
In partnership with grassroots organizations and local volunteers, Watersheds Canada has completed many fish habitat restoration projects across Eastern and Central Ontario over the past nine years, including walleye spawning bed enhancements, cold-water creek enhancements, trout spawning bed enhancements, and in-water habitat enhancements through the deployment of brush piles (woody debris). If you think your Ontario waterfront community could benefit from a fish habitat enhancement project, please check out the free Fish Habitat Enhancement Toolkit: Watersheds.ca/download-the-fish-habitat-enhancement-toolkit/
About Watersheds Canada
Watersheds Canada is a national non-profit charitable organization that works with landowners, communities, students, and organizations to enhance and protect lakes and rivers through developing effective and transferable long-term solutions. Watersheds Canada envisions people caring for their waters, resulting in clean, healthy lakes and rivers to support humans and wildlife for years to come. Learn more at Watersheds.ca
About the Bass Pro Shops and Cabela's Outdoor Fund
Under the visionary leadership of founder Johnny Morris, Bass Pro Shops and Cabela's is leading North America's largest conservation movement. Together with its partners in conservation, Bass Pro Shops and Cabela's is positively shaping the future of the outdoors through donations, grant-making and advocacy. The Outdoor Fund is a 501c3 non-profit that unites more than 200 million passionate sportsmen and women rounding up their purchases in Bass Pro Shops and Cabela's stores and online.