December 9, 2021 – There are some new homes on Olmstead and Jeffrey Lakes in Renfrew County, but not on the land.
Fish, turtles, and macroinvertebrates like snails and dragonfly larvae now have more natural areas to rest, grow, and hide from predators thanks to a community-led effort that added 18 piles of woody debris back into the two lakes.
Local organizations and volunteers came together on September 28, 2021 to gather on-land woody debris like sticks and snags, tie them together with rope, anchor them to concrete blocks, and add them back into the lakes. Underwater woody debris is a healthy component of lake environments but is often removed as property owners and waterfront businesses look to "clean up" the aquatic environment around their property. Sunken logs, trees, branches, and root balls provide excellent habitat for wildlife and are required to maintain healthy populations of key recreational fish species in the area such as walleye, largemouth bass, smallmouth bass, northern pike, brown bullhead, and channel catfish.
"It was amazing to see twenty-seven people helping throughout the day to collect and construct the brush piles, deploy them, and drive the boats", said Melissa Dakers, Habitat and Stewardship Program Manager, Watersheds Canada. "This amazing community-led, collaborative project will benefit the wildlife population on Olmstead and Jeffrey Lakes for years to come."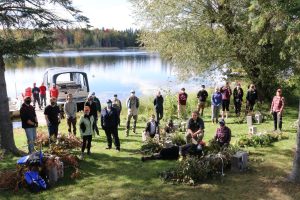 This project was made possible because of generous funding from Bass Pro Shops & Cabela's Outdoor Fund and the Pembroke Petawawa District Community Foundation, and with local partners including Olmstead-Jeffrey Lake Association, Muskrat Watershed Council, Watersheds Canada, Algonquin College Pembroke campus, and Ministry of Northern Development, Mines, Natural Resources and Forestry – Pembroke.
"This year the Olmstead-Jeffrey Lake Association was thrilled to be chosen to participate in a brush bundle project to enhance fish habitat on our lakes", said Sue Ward, Secretary, Olmstead-Jeffrey Lake Association. "This project was a perfect complement to our ongoing efforts to naturalize our shorelines to promote wildlife habitat and maintain water quality.  Our lake volunteers had a great day with Watersheds Canada staff and with the help of Algonquin College students."
"This was a great opportunity for Algonquin College to team up with Watersheds Canada in assisting with the fishery rehabilitation", said Jody Nicholas, Professor, Algonquin College Pembroke campus. "The students gained a lot of experience that they can apply in their future careers. We are looking forward to working with Watersheds Canada again in the future."
The success of this project will be measured by comparing the underwater GoPro footage taken when the brush bundles were added to specific locations on the two lakes, and then returning to those sites in the coming years to record the activity around the bundles. These results should show increased activity and variety of fish species using the woody debris.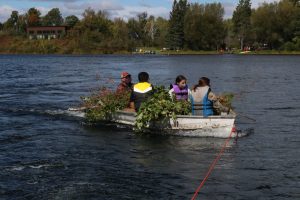 "Participating in the Olmstead-Jeffrey Lake Association fish brush bundle project, in partnership with the Watersheds Canada group and the Algonquin College student volunteers, was a surprisingly rewarding experience", said Debbie Macdonald, Treasurer, Muskrat Watershed Council. "As an executive member of the Muskrat Watershed Council in Cobden, it was so inspiring to see the interest and enthusiasm the college students exhibited while preparing and deploying fish brush bundles in these lakes within the Muskrat watershed. The Muskrat Watershed Council also appreciates the dedication of the Olmstead-Jeffrey Lake Association in pursuing projects that protect water quality, and are encouraged by their commitment in ensuring their lakes remain healthy for future fish populations."
This fish habitat project on Olmstead and Jeffrey Lakes is one of many that Watersheds Canada has delivered in partnership with grassroots organizations and local volunteers over the past seven years. These projects have benefited fish species across Eastern and Central Ontario, specifically through walleye spawning bed enhancements, cold-water creek enhancements, trout bed enhancements, and in-water habitat enhancements through the deployment of brush bundles (woody debris).
About Watersheds Canada
Watersheds Canada is a national non-profit charitable organization that works with landowners, communities, and organizations to enhance and protect lakes and rivers through developing effective and transferable long-term solutions. Watersheds Canada envisions people caring for their waters, resulting in clean, healthy lakes and rivers to support humans and wildlife for years to come. Learn more at watersheds.ca
About the Bass Pro Shops and Cabela's Outdoor Fund
Under the visionary leadership of founder Johnny Morris, Bass Pro Shops and Cabela's is leading North America's largest conservation movement. Together with our partners in conservation, Bass Pro Shops and Cabela's is positively shaping the future of the outdoors through donations, grant-making and advocacy. The 501c3 Outdoor Fund raises funds to support conservation efforts by activating more than 200 million passionate sportsmen and women rounding up their purchases in Bass Pro Shops and Cabela's stores and online.
-30-
Media Contact:
Melissa Dakers
Habitat and Stewardship Program Manager
Watersheds Canada
dakers@watersheds.ca