After retiring and moving to the countryside seven years ago, Alan and Joyce are enjoying the peace and quiet of life on the water. Having both grown up going to cottages for vacation, they now are able to spend more time in nature and enjoy the panoramic views with little evidence of people around. "Natural shorelines are important to us because it draws in more nature – plants and animals – to our property. We enjoy looking around and seeing and living beside the natural shoreline", said Alan, a participant in the Natural Edge Program from Watersheds Canada.
The Natural Edge Program
The Natural Edge Program works with waterfront property owners to restore their shoreline by planting native trees, shrubs, and wildflowers. Each landowner receives a full-service restoration program, which includes a free site visit, and the creation of a shoreline restoration plan for their property using Watersheds Canada's self-developed App. Each customized plan provides detailed descriptions of native trees, shrubs, and wildflowers suitable for planting based on their site conditions and preferences.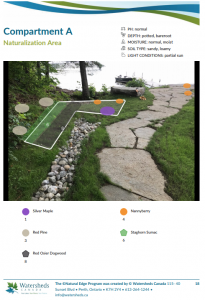 Alan and Joyce's custom planting plan was created using the Natural Edge App. Landowners walk their property with trained Natural Edge staff to pick appropriate tree, shrub, and wildflower species based on light and soil conditions, and aesthetic and height preferences.
By planting, Alan and Joyce are helping to improve their lake's water quality as native plants filter excess nutrients and toxins out of water run-off. Vegetated shorelines also stabilize the shore and reduce soil erosion as plant roots hold soil in place, a problem that their lake has been susceptible to: "we'd rather have erosion control that is natural, rather than human-made", said Alan. "In recent years we've lost four trees along the shoreline that have come down due to erosion".
Welcoming Pollinators to the Property
An additional benefit to participating in the Natural Edge Program is the anticipated increased presence of pollinators to the property. Wildflower species like Butterfly Milkweed, New England Aster, Black-Eyed Susan, and Wild Bergamot, and shrub species like Red-Osier Dogwood, Bush Honeysuckle, Chokecherry, Canadian Serviceberry, and Snowberry were all planted along their shoreline property to provide pollinators like bees and butterflies with food and habitat. While they "do see some hummingbirds, a few butterflies, and very few bees" on their property, they would like to see more! By taking action on their property and planting local plant species, pollinators will be welcome and will continue to support "an environment that takes care of reproducing itself and doesn't rely on human input", said Alan.
These insects and animals play a critical role in natural ecosystems and in human food production. For example, butterfly species are beautiful, but they also provide an incredible service to the planet. As pollinators, they move pollen from one plant to another, which allows the plant to become fertilized. Pollinators fertilize fruit-producing plants like blueberries, strawberries and pumpkins.
Why Participate in the Natural Edge?
What was Alan and Joyce's experience with the Natural Edge Program and staff? "Our contacts have been very professional, proactive, and flexible. The staff are excellent communicators and clearly know their science and understand how to apply it. Since we did not have the expertise to do the job, we couldn't have done it without the Natural Edge Program – it's a great program!"
About Watersheds Canada
Watersheds Canada is a non-profit organization committed to providing programs across the county that work to engage and help shoreline property owners, lake associations, and community groups enhance and protect the health of lakes, rivers, and shorelines. Despite their big name, Watersheds Canada is a very small charity based in Perth, Ontario that raises every dollar each year from donations, grants, and foundation support as they do not receive any yearly support from government funding. What has always set Watersheds Canada apart is their dedication to the local communities: by taking the time to listen to the communities' local needs, programming is always specific, impactful, and as efficient as possible.
Stay connected with us on social media! Facebook Twitter Instagram YouTube