Pruning is a technique used to help support the growth of native trees and shrubs, and while it is not required, it may be a good option for your property to protect pathways, sight lines, or protect plants from neighbouring competitors. It can be a tricky and overwhelming task if you don't know what to look for or how to properly prune.
What Should I Prune?
First, you will want to determine which species you want to prune. It is best if you watch your property throughout the year while different plants are in bloom. You will notice their height, width, and if they block any important views or pathways. You may also want to identify different plants and see if they are native or non-native species. It may be the case that you want to pull a plant rather than prune it! Use the free Native Plant Database to see what species are native to your Canadian hardiness zone.
Once you have decided which species you would like to prune, you have to decide how much to prune. Branches that are dead, diseases, or damaged should be removed to protect the plant from further health risks.
When to Prune
Pruning can cause stress to trees and shrubs so it should only take place while the plant is in dormancy. This happens in the late fall and early winter. Leaf loss in the fall is good indicator that a plant has gone dormant. If you want to prune a shrub that flowers, it is best to prune in the early spring before the buds emerge, or after the flowers have died. Removing the dead flowers can help the shrub leaf out by encouraging nutrients to access the leaves.
How Much is Too Much?
Pruning should never remove more than 25% of the crown of the shrub or tree. Branches should compose at least two-thirds of the shrub or tree to ensure that the vegetation has enough mature leaves to support growth and survival.
Once shrubs begin to show signs of aging, rejuvenation pruning can be done to encourage new growth. Gradual rejuvenation involves removing old growth by one-third every year until all old growth has been removed. Complete rejuvenation involves cutting the entire shrub back until just the stump remains – about 15-25 centimetres above the ground.
How to Prune
Cuts should be made on the branch that is to be removed at the branch collar (see diagram above). Pruning at the branch collar reduces the risk of unwanted damage and infestation, and allows for faster healing.
Tools and materials to prune can include: pruning shears, a hand saw, step stool or ladder, gloves, eyewear protection, a bucket, and tool cleaning solution. Infection and disease can spread from plant to plant via pruning tools. Be sure to clean tools after every tree or shrub before starting on another one. Possible disinfecting solutions can include one part bleach, dish soap, or pine oil cleaner in three parts water.
To prune, start by making a wedge shape cut, roughly one-quarter of the branch diameter on the underside of the branch. This wedge should be approximately 12cm from the branch collar. This wedge-cut in not intended to remove the branch. Next, approximately 20-30cm away from the branch collar, cut the branch completely, starting at the topside of the branch. This will leave a branch stub with the initial wedge cut. Finally, cut off the stub by cutting parallel to the collar. Cutting the collar can damage the tree or shrub by increasing healing time and susceptibility to infection.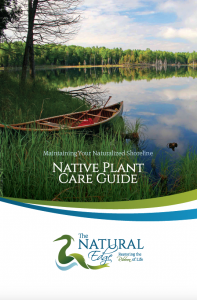 This information, along with topics like mulching and watering, are explored in the Natural Edge Native Plant Care Guide. You can download a free copy of the Guide here or you can purchase a hard copy here.