Spring has sprung! Watersheds Canada is excited to share some updates about our spring field season and how we are staying safe while still working hard to restore and enhance Canada's freshwater areas.
Shoreline property owners across Canada are participating in the Natural Edge Program. We work collaboratively with shoreline property owners to design their shoreline restoration plan using native trees, shrubs, and wildflowers.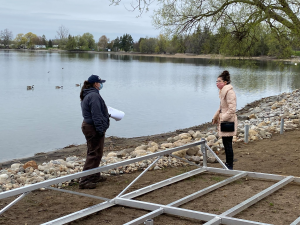 While physically distanced, landowners walk their shoreline with our trained staff to talk about their concerns and goals for their restoration project.
Shoreline re-naturalization is critical to protect and enhance a waterbody's overall quality and health. Strong root systems hold soil in place, reducing erosion from surface runoff, boat wakes, and flooding.
Native plants along the shoreline also provide the perfect feeding, breeding, and nesting areas for local wildlife like perch, Blanding's turtles, and Wood Ducks. Shoreline vegetation filters runoff before it enters a waterbody, protecting against algae blooms and excessive aquatic plant growth.
Our Natural Edge partners have already begun spring planting season. Together, we will have planted over 10,000 native trees, shrubs, and wildflowers, protecting shoreline properties across Canada. If you are one of these landowners, we're so excited to meet you in-person and help you re-naturalize your shoreline!
Our Natural Edge partners have recently picked up hundreds of native plants from local nurseries and are now beginning to plant them on shorelines across Canada!
Will you please make a gift of $25, $30, or $45 today to help continue this important work? Your gift will fund projects in your region and across Canada. You can make a safe and secure online gift at watersheds.ca/donate or mail a cheque to 115-40 Sunset Blvd, Perth, ON, K7H 2Y4. All donations are eligible for a Canadian tax receipt.
Thank you for helping restore Canada's shorelines with native plants!