by Andres Clavier, Freshwater Stewardship Education Intern
Canada's diverse ecosystems, stretching from temperate rainforests to arid grasslands, host an extraordinary variety of flora and fauna. Among these ecosystems, wildfires are a recurring phenomenon, casting a shadow of destruction and regrowth across the landscape (Buma & Wessman, 2011). While the sight of raging wildfires invokes images of devastation, they are a vital component of these ecosystems, contributing to the regeneration and growth of native plants (Schwilk & Caprio, 2011).
Wildfires are a dynamic component of Canada's ecosystems, particularly in boreal forests and grasslands. They follow a cyclic pattern of occurrence, whereby fuel accumulation from decaying vegetation and tree growth facilitates the ignition and spread of fires (Johnson & Miyanishi, 2008). These fires, in turn, lead to the reduction of accumulated fuel and open up space for new growth, kickstarting the process anew. This cyclical process is the heart of many Canadian ecosystems, and it is often measured in terms of fire frequency and severity (Stocks et al., 2003).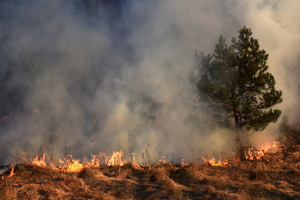 The relationship between wildfires and plant regeneration is both complex and fascinating. Certain native plants have evolved not merely to endure wildfires but to take advantage of them for their growth and propagation (Schwilk & Caprio, 2011). They have developed remarkable adaptations that allow them to thrive in post-fire environments, creating a mutual dependency between the plant species and the wildfire cycle (The Government of Canada, 2021).
While wildfires play a key role in maintaining the health of many Canadian ecosystems, the safety and well-being of human communities are paramount. Modern firefighting techniques often suppress wildfires to protect people and property. However, this can lead to an unnatural buildup of fuel, resulting in more severe fires when they do occur (Whitman et al., 2019).
Managed or prescribed fires are one solution. They aim to mimic the natural wildfire cycle, reducing fuel loads and encouraging the regeneration of native plant species. Simultaneously, these controlled burns can create buffer zones that help protect human communities from uncontrolled wildfires (The Government of Canada, 2021).
References
Buma, B., & Wessman, C. A. (2011). Disturbance interactions can impact resilience mechanisms of forests. Ecosphere, 2(5), 1-13.
Johnson, E. A., & Miyanishi, K. (2008). Testing the assumptions of chronosequences in succession. Ecology Letters, 11(5), 419-431.
Schwilk, D. W., & Caprio, A. C. (2011). Fire and plant diversity in Sierra Nevada mixed‐conifer forests. Fire Ecology, 7(2), 2-17.
Stocks, B. J., Mason, J. A., Todd, J. B., Bosch, E. M., Wotton, B. M., Amiro, B. D., … & Martell, D. L. (2003). Large forest fires in Canada, 1959–1997. Journal of Geophysical Research: Atmospheres, 108(D1).
The Government of Canada. (2021). Fire Regimes – Canadian Forest Service.
Whitman, E., Parisien, M.-A., Thompson, D. K., & Flannigan, M. D. (2019). Short-interval wildfire and drought overwhelm boreal forest resilience. Scientific Reports, 9(1), 1-10.