by Samantha Cunningham
While we think of snakes primarily as predators, they are both predators and prey! This makes them a key component of a healthy, balanced ecosystem. These slithery serpents help keep pest populations under control by eating insects, rodents, and small mammals. They are nature's pest control and they are particularly good at protecting gardens from slugs and other nuisances! Snakes are also preyed upon by birds and larger mammals.
Fun Fact: Snakes, while typically thought of as solitary animals have been shown to develop and enjoy companionship with other serpents of the same species!
Source: Pennisi, 2020.
The most common and widely distributed snake in Canada is the harmless Garter snake. There are six types of Garter snake which can be found across the country from coast-to-coast and even up into the Northwest Territories. Including the Garter snake, there are 25 different snake species in Canada. Exterminating snakes is prohibited due to their minimal risk to humans and large ecological benefits. Some species are also listed as Species at Risk in Canada and individual provinces.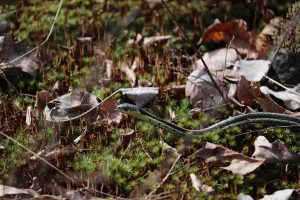 Garter snake. Photo: Monica Seidel.
According to the Canadian Wildlife Federation, there are currently only three species of venomous snakes in all of Canada. All three are registered Species at Risk. The first species is the Western Rattlesnake which has a small population in British Columbia in the Okanagan region. The second is the Prairie Rattlesnake which is found in southern Saskatchewan and Alberta. The final one is the Eastern Massasauga which is only found in central and southern Ontario.
The greatest threat to all snake species is humans. From habitat development to road mortality to targeted persecution by people, these snakes have much more to fear from us than we do them. In fact, snakes tend to be very avoidant of humans and will give warnings before defending themselves when cornered or threatened.  What is far more likely to happen is for a startled snake to disappear in the blink of an eye to get away from you! If you get to see a snake sitting still, you can use Apps such as SnakeSnap and iNaturalist to help identify snakes from photographs in real-time! You will most likely see them sunning themselves on a rock, so keep your distance, use your camera's zoom, and learn something new!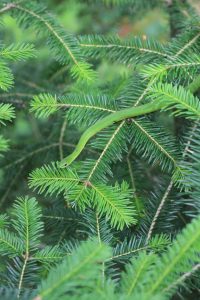 Did you know? You are more likely to be hit by lightning than bit by a snake in Canada! There are less than a dozen snake bites reported each year.


Source: Cottage Life, 2018.
Smooth Green Snake. Photo: Simon Lunn.
There are many things you can do to stay safe around snakes, venomous or not! The first and best rule is to leave the snake alone. If you come across one, especially if venomous, stop and back away slowly. Do not approach or try to handle or touch them. Most snakes do not want to see people and will leave or hide when confronted. Here are some other ways the Canadian Wildlife Federation suggests to keep some distance between you and our serpent friends:
Wear long pants and closed-toed shoes when walking in rocky areas or long grasses (also good for tick protection);

Have a light when walking at night;

Do not stick your hands where you can't see. Shine a light, use sticks or other materials to check under plants or rocks, or better yet, leave it be; and

Keep your pets on a leash and on the trail.
If you ever find yourself threatened by one of these venomous snakes contact your local provincial wildlife department to intervene.
The best policy to co-exist with these important creatures is to mutually ignore each other. Leaving areas natural or reintroducing naturalized areas to your property can help encourage snakes to remain in that habitat and away from other areas of your property. Check out the free Natural Edge Native Plant Database for more information about suitable native plant species for any eco-zone found in Canada.
While not all of us have pleasant relationships with snakes, it is important to remember co-existing provides numerous benefits for humans and snakes alike. 
References