Andress' Your Independent Grocer in Smiths Falls will be celebrating World Water Day (March 22nd) by partnering with Watersheds Canada.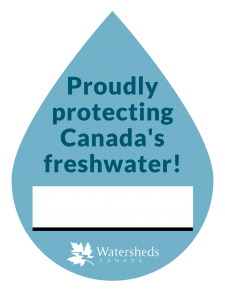 With your $2 donation, you will help fund local freshwater initiatives, including naturalizing shorelines with trees, shrubs, and wildflowers, and educating people on in-water fish habitat. You will have the opportunity to write your name on a water drop tag and have it on display at the front of Andress' from March 15-21st (pictured, right).
"Wanita and I love to be near water for its beauty, calming effect, recreation and family. The future of the planet evolves around abundant fresh clean water. Let's help protect the health of our waters and shorelines so we have years to enjoy!", said Dan Andress.
Initiated by the United Nations, World Water Day is about taking action to tackle the water crisis. Watersheds Canada understands that in order to create the greatest impact, we must actively train, provide resources, and help others. For property owners, lake associations, and organizations concerned with the health of their lakes, rivers, and waterfront properties, Watersheds Canada will provide practical and proven ways to restore deteriorating shoreline conditions and improve water quality over the long-term. People will then have the ability to pass along that same expertise to others in their communities.
"I am so excited to partner with Andress' Your Independent Grocer in Smiths Falls. I met Dan & Wanita last fall at a public event and we instantly realized our shared love of living on the water. Partnering with the Andress' Your Independent will bring local awareness of Watersheds Canada and how we are helping to protect our freshwater", said Melissa Dakers, Lake Stewardship Coordinator at Watersheds Canada.
Help cover a wall at the Andress' Your Independent Grocer with water drops to show your support for Ontario's freshwater! Despite our big name, Watersheds Canada is a small environmental organization that raises every dollar each year from donations, grants, and foundation support. Thank you to our new local partner, Andress' Your Independent Grocer!