Be sure to leave your comments and feedback section at the bottom of this page! We value your thoughts as you download and use these resource so we can improve them over time.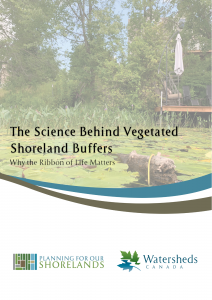 Using highly-cited and peer-reviewed scientific studies, this document outlines the benefits of vegetated shoreland buffers, and discusses why local decision makers, landowners, developers, and landscape professionals should maintain or restore native vegetation to achieve holistic protection for waterfront properties and ecosystems.

This report reflects the findings from three stakeholder surveys on the state of shoreland stewardship and land-use according to municipal planners, councillors, and lake and river associations in Ontario.

This comprehensive and step-by-step planting plan template will assist you in assessing your property's site conditions and clearly demonstrate ways vegetation will be increased as a result of your plan. The planting plan is divided into four parts: Draw your Planting Area, Assess Planting Area Conditions, Choose Plants, and Maintenance Plan.
Currently, very few municipalities mention Environmental Net Gain in their existing policies around waterfront development proposals. This package outlines what an Environmental Net Gain is and why they are a critical consideration when protecting waterfront health.
Did you know a shoreland is made up of many different zones? Learn more about what a shoreland is, who lives there, and how a natural shoreland is most resilient to impacts from climate change in this infographic.