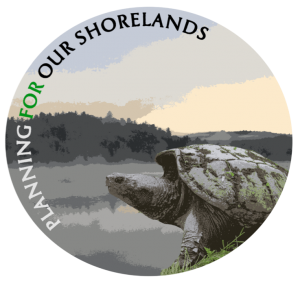 Several municipalities in Ontario rely on freshwater lakes and rivers for the economic and ecological services they provide. Increased demand for residences and facilities in these regions has caused a significant rise in development on the shorelands surrounding these important ecosystems. This increase in human activity, while providing financial benefit to some, has simultaneously escalated the long-term degradation of several waterbodies and their shorelands beyond their physical and biological capacity.
Responsibility for conserving shorelands in Ontario is shared across a diversity of stakeholders, including municipal councillors, planners, and lake-river associations. It is the goal of Planning for our Shorelands to provide these municipal stewards and professionals with resources as they wade through the difficult waters of shoreland management and land-use on their lakes and rivers.
To achieve this goal, Watersheds Canada and its project steering committee are striving to produce a Best-Management Practices (BMP) resource and forum related to shoreland policy and land-use which inform and unify municipalities in their efforts to conserve critical shoreland habitats. By doing so, we will be working towards collaborative, science-based solutions to the most persistent barriers to preserving ecosystems upon which both wildlife and people rely.
Through the utilization of the BMP resources provided by Planning for our Shorelands, officials and professionals working in Ontario's municipalities can become leaders in their field, all while contributing to the conservation of the lakes and rivers which provide vast social, economic, and environmental services.
Planning for our Shorelands is possible because of the guidance from an amazing project Steering Committee, which includes experienced planners, conservation authorities, and lake stewards. Thank you: Barbara King (Watersheds Canada), Janet Taylor (White Lake resident), the LUSH Charity Pot, the Daniel and Susan Gottlieb Foundation, the ImpAct Internship Program, Mark Snider, Glenn Tunnock, Terry Rees (Federation of Ontario Cottagers' Associations), Mary Rae (Watersheds Canada Board Member and Retired Municipal Lawyer), Leora Berman (The Land Between), and Katrina Furlanetto (Cataraqui Conservation).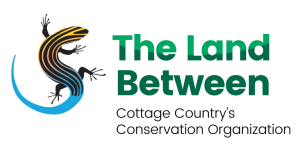 Resources
"The Future of Our Shores" PDF report
Shoreline Naturalization Planting Plan Template
Environmental Net Gain package
In the News
"Report hopes to advance shoreline debate". The Highlander, June 18, 2021.
"Report highlights need for shoreline education". Minden Times, June 9, 2021.
"Shorelines 'not a backyard swimming pool', lakefront landowners reminded". CBC News, May 20, 2021. Also featured on Yahoo! News, YYC Times, MSN News, One News Page, and News Now.
"Shorelines 'not a backyard swimming pool', lakefront landowners reminded". CBC Ottawa News, May 20, 2021. Video link
"Future-of-our-Shores Report Highlights Need for More Shoreland Best-practices and Education". The Land Between, May 10, 2021.
Media Release – Future of our Shores report highlights need for more shoreland best-practices and education in Ontario, May 3, 2021.
Upcoming & Past Events
October 6, 2022 – "Engaging Municipal Elected Officials to Protect our Freshwater" registration now open!
June 16, 2022 – "Sustainable Waterfront Planning Through Reconciliation" webinar resources
June 14, 2022 – "Healthy Shorelines, Healthy Lakes: Municipal Planning Tools to Protect our Freshwater" workshop
November 17, 2021 – "Planning Tools for Shoreline Protection: The Community Planning Permit System" webinar resources
March 13, 2021 – "Planning For Our Shorelands: A resource to help conserve the Ribbon of Life in Ontario's Municipalities" webinar resources