Welcome to Planning for our Shorelands!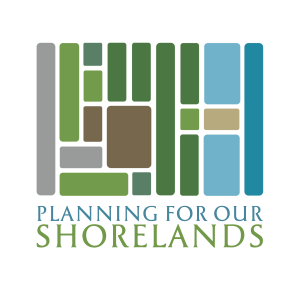 No, it's not a typo! We insist that our program is called shorelands, not shorelines, because this term encompasses a lot more than the line where land and water meet. The beauty, health, and enjoyment of water comes from what happens on the shoreland. Both waterfront property owners and municipal leaders have a responsibility to protect it as the shoreland provides several social, economic, cultural, and environmental benefits. 
Planning for our Shorelands (PFOS) is a program that presents webinars and best practices resources to address common and very complex problems facing waterfront communities today such as: water quality, fish and wildlife, erosion, and flood risks. We are addressing this problem by promoting an ecosystem-based approach in land use decision-making, which is a strategy that integrates land, water, and living things to promote conservation and sustainable use in an equitable way (Convention on Biological Diversity, 2021). 
PFOS helps educate municipal decision-makers, waterfront property owners, and freshwater stakeholders with climate-informed policies as we identify successful tools used by municipalities to address a very common situation: traditionally development has been done as close to the water as possible and has resulted in the continued hardening of our shorelands.
We want to UN-NORMALIZE hardened shorelands. Let's talk about natural climate change solutions!
By restoring shoreland vegetation, creating opportunities for environmental net gains, and promoting sustainable development practices, Planning for our Shorelands highlights natural climate solutions as holistic and resilient solutions to these common waterfront challenges.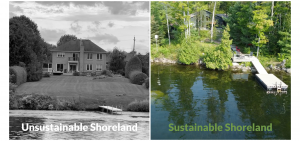 What Can You Do?
Be sure to also check out: Planning for our Shorelands in the news!
Download Free Resources from Our New Online Toolkit
Watersheds Canada has free, new resources that explain the importance of natural shorelines and outline steps you can take to protect your local freshwater. Topics in the toolkit include the Science Behind Vegetated Shoreland Buffers, Guide to Preparing a Shoreline Naturalization Planting Plan, and A Regulatory Guide to Achieving Environmental Net Gain at the Waterfront.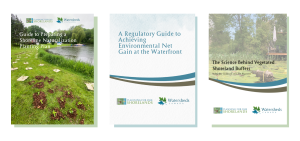 Partners and Funding
Planning for our Shorelands is possible because of the guidance and support from the knowledgeable and passionate steering committee, which includes experienced professional planners, conservation authorities, and lake stewards: Barbara King (Watersheds Canada), Cataraqui Conservation, Glenn Tunnock (Friends of the Tay Watershed), Janet Taylor (lake resident), Leora Berman (The Land Between), Mary Rae (former Watersheds Canada Board Member and Retired Municipal Lawyer), and Terry Rees (Federation of Ontario Cottagers' Associations).
Planning for our Shorelands has received funding from Government of Canada's EcoAction Community Funding Program, The Daniel and Susan Gottlieb Foundation, Impact Internship program, the Catherine and Maxwell Meighen Foundation, South Frontenac's Lake Ecosystem Grant Program, and LUSH Cosmetics.