Fish Habitat Programs
Many waterbodies are lacking natural woody structures due to cottage owners, and marina and resort operators that prefer to "clean up" their waterfront properties by removing natural fallen trees, branches, stumps, and other habitat features.
Watersheds Canada, in partnership with many different groups, has been working to develop habitat enhancement programs that can be delivered across the country.
Cold-water Habitat Restoration
Cold-water streams are significant tributaries in the proper function of natural ecosystems as they help to moderate temperatures in the larger rivers and lakes they flow into. Not only are these streams water temperature regulators, they also provide nursery habitat for many fish species including brook trout which require the cold temperatures and high dissolved oxygen levels that these creeks possess.
In-Water Fish Habitat Enhancement
Underwater woody debris is a healthy component of lake environments. Sunken logs, trees, branches, and root balls provide excellent habitat for wildlife, including fish, turtles, birds, invertebrates, and more. Beaver activity, wind, erosion, or water inflows from rivers or creeks naturally deposit such woody debris into a lake. However, human activity and development have significantly reduced the amount of natural woody debris in lakes.
Communities can promote the health of wildlife populations and improve water quality by creating additional woody debris habitat, such as in-water brush piles. Brush piles can provide fish with a food source, as well as shaded areas to rest, spawn, and escape predators.
Walleye Spawning Bed Enhancement
Walleye, also known as pickerel, are a highly prized sports fish and an important part of the biodiversity in many waters of Ontario. If you have walleye in your lake or river, you may be able to help strengthen their populations by enhancing walleye spawning beds.
Pugnose Shiner Landowner Engagement and Shoreline Habitat Restoration Project
Watersheds Canada and Quinte Conservation will focus on landowner engagement and action to help enhance and restore Pugnose Shiner populations and habitat quality in the Quinte watershed. This project is generously funded by the Fisheries and Oceans Canada's Habitat Stewardship Program for Aquatic Species at Risk.
_____________________________________________________________________________
Fish Habitat Enhancement Toolkit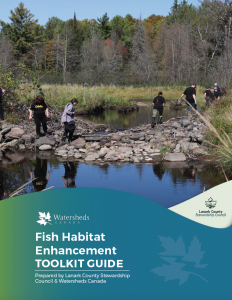 Thanks to generous funding from the Ontario Trillium Foundation, LUSH Cosmetics, Cabela's Canada Outdoor Fund, and Environment Canada, Watersheds Canada and the Lanark County Stewardship Council have created a free Fish Habitat Enhancement Toolkit to build capacity with volunteer lake groups to increase the amount of fish habitat projects that take place in Ontario. With this toolkit, volunteer groups across Ontario will be able to plan and implement their own fish habitat enhancement projects using the guide, protocols, and videos. The toolkit covers the following fish habitat enhancement projects: (1) in-water brush piles (woody debris), (2) cold-water creek enhancement, and (3) walleye spawning bed enhancement.