Walleye Spawning Restoration Projects
Ardoch Lake Walleye Spawning Bed Enhancement Project
Due to the location and the lack of accessibility to the two lake shoals, it was determined that two barges would be rented and that the washed river stone would be need to be moved by hand. Over a hundred milk crates were gathered to transport the rock via barge to the shoals and the search for volunteers began.

Howes Lake – Cole Creek Spawning Bed & Creek Restoration
Howes Lake is home to a historic walleye spawning bed located on Cole Creek but unfortunately due to beaver damage it has been inaccessible to the walleye during times of spawning. The beaver have blocked the creek in several locations. The residents of Howes Lake wanted to restore and enhance this creek so they contacted Watersheds Canada (restored spawning bed pictured, left).
Long Lake – Walleye Enhancement Project
It was decided that we would execute a winter spawning bed enhancement. Long Lake was a perfect candidate for this technique because it has very little flow and ice movement in the spring. So we decided that we would ask volunteers to bring snowmobiles, ATVs, tractors, sleds and trailers to transport the washed river stone 1.5 km across the ice to the spawning beds. Volunteers would then dump and spread out the rock on top of the ice, where it would then drop into place in the spring once the ice melted. The project would take place once the ice was safe for heavy vehicle traffic.
Mary Jane's Creek – Walleye Enhancement Project
This creek is found near Westport, Ontario and was chosen for its potential to increase the Walleye spawning habitat available downstream of the dam on Mary Jane's Creek. Walleye spawning beds are typically gravel shoals or rocky shallows with wave action present. Moving water oxygen in the water facilitates spawning.
Muskrat River – Walleye Enhancement Project
The restoration of the historic walleye spawning site was completed in two steps, with community members and staff sweeping the bed to stir up the silt, and then using a power hose to push the silt downstream into a silt curtain. This project will restore the local walleye spawning bed, allowing for a population increase over time.

Sharbot Lake Walleye Spawning Bed Restoration
Another successful walleye spawning bed restoration project was completed in the fall of 2017 on Sharbot Lake in partnership with the Sharbot Lake Property Owners Association. Watersheds Canada received approval and funding from Fisheries and Oceans Canada to proceed with the fish habitat project for two sites on Sharbot Lake.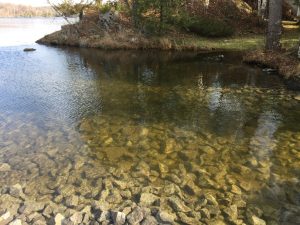 Twin Sister Lakes Walleye Spawning Bed Restoration Project
Watersheds Canada completed the last fish habitat project of 2017 on Twin Sister Lakes, north of Marmora. With funding from Fisheries and Oceans Canada, as well as the Ontario Community Environment Fund, two historical walleye spawning beds, one in each basin, were restored.
White Lake Spawning Bed Project
White Lake, located west of Arnprior, was the setting of a fisheries habitat enhancement project led by Watersheds Canada staff and Lanark County Stewardship Council members. The project looked to improve the overall health of White Lake by restoring natural shorelines, creating and enhancing spawning beds for walleye.