by Chantal Lefevre
From a young age, I have spent my summers in lakes and rivers either boating, swimming, or just exploring the environment. My love for nature drove me to explore a career in the environmental field. I started my post secondary learning experience at Fleming College, attaining a diploma as an environmental technician and advanced diploma as an environmental technologist. My quench for knowledge was not satisfied, so I continued my formal education at Trent University, obtaining a bachelors in environmental science and resource management. I have multidisciplinary experience working with other environmental nonprofits as well as environmental consulting, a conservation authority, and municipal and provincial government. My passion and background in water quality/quantity and botany and the ecology that connects them prepared me for my exciting role with Watersheds Canada as the Natural Edge Restoration Technician.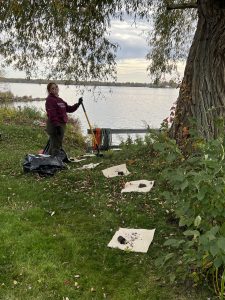 A highlight of my job is coordinating with local landowners interested in naturalizing their shoreline, and conducting site visits. During a site visit I assess the shoreline and discuss any concerns the landowner has. I provide recommendations and advice about healthy shorelands and create a personalized planting plan with the landowner. Natural shorelines, or riparian zones, can be both aesthetically pleasing and functional for the landowner while providing benefits to the lake and the many organisms, including humans, that rely on the waterbody. The landowner may own the shoreline but the impacts made on that property affects everybody accessing that water resource.
I enjoy designing the plans and envisioning what it will look like. Every good design incorporates aesthetic components but also the functional aspect that controls erosion, provides habitat, and protects water quality. A shoreline with a variety of native species of trees, shrubs, and wildflowers provides different benefits. Different species of trees and shrubs have different root structures which make them useful for different types of shorelines. For instance, White Pine (Pinus strobus) has a shallow root system allowing them to grow in shallow soils, but this isn't as helpful for a property that has a focus on erosion control because deeper root systems do a better job at holding the shoreline together. Another focus for a shoreline might be attracting pollinators and being beautiful in appearance. In this case, I recommend planting lots of wildflowers and flowering shrubs!
I have enjoyed learning more about different species and their growing characteristics and I have advanced my plant identification skills. Making a direct impact on water quality and wildlife by physically planting shorelines is very rewarding. I personally planted hundreds of different species on shorelines across Ontario during the fall planting season. With the impacts of climate change, our best defence is a natural one. Our planet's air and water is warming and natural riparian zones can defend against increased erosion from extreme weather events and limit contaminants and excess nutrients from entering our waterways.
Working with landowners and volunteers and seeing their passion for water quality and natural spaces is inspiring and gives me hope that we can keep our lakes and rivers healthy for future generations. As one landowner said after their shoreline was restored, "I was surprised that the shoreline restoration project was so easy to access. The staff were very knowledgeable and available for questions and conversations. The aesthetic was considered when choosing plants. I am so happy to have participated in this program. I will strongly recommend it."
If you want to make an impact, take the time to educate yourself on the issues affecting our shared waters. Sign up for our newsletter to learn more about what Watersheds Canada is doing and what you can do, too. Remember, you don't need years of schooling to make a difference for our water!