by Monica Seidel, Communications and Fundraising Manager
Watersheds Canada is a special organization. I have had the pleasure of being a part of this small team for over three years now. I have been mentored, taught, and encouraged by countless volunteers, community groups, and colleagues who all have a passion and dedication for coming together to protect Canada's freshwater.
While my job title mentions communications and fundraising, I have a deep passion for outreach and education. Thanks to the collaborative nature of our team, I am able to pursue all three of these passions. It makes for a very full workload, but my heart is full knowing I can deliver impactful and wonderful programs like the Nature Discovery Program and the Freshwater Stewardship Community.
Both of these outreach programs have the same goals, the goals which are foundational to Watersheds Canada as a whole: build programs and resources using community insight and guidance, and share these programs and resources with others as much as possible so they are empowered to take action. Though the programs I manage reach different stakeholder groups, both programs focus on reducing barriers to action so people of all ages can connect with local nature and find their role in protecting it.
Of course, there are many ways to be involved with the programs Watersheds Canada delivers. Many people and community groups join us along beautiful shorelines each spring and fall to plant thousands of native species each year through our Natural Edge Program. Others join us on the water for our Fish Habitat program as we restore historic in-water and shoreland fish habitat areas. Not everyone has the ability to volunteer for these restoration projects and instead they lend their support by making kind financial donations. 
This relationship-based, boots-on-the-ground aspect of Watersheds Canada is what makes us a special organization and it is why I think you should support us this Giving Tuesday. Am I biased? Absolutely! I have the privilege of seeing programs and partnerships go from initial calls and ideas to being there live when a community comes together and has a positive impact for their local environment. In the wake of all that is threatening nature, Watersheds Canada offers people across the country very tangible ways to take action.  
There is sincerely nothing better about my job than knowing a community can come together with the tools, programs, and knowledge they need to address a local need. People are so passionate about their communities and they want to protect them. When they don't know how to take the first few action steps, Watersheds Canada can come alongside them and offer our 20+ years of experience in freshwater restoration and protection to ensure their project is as successful as all of the projects that have come before theirs. We listen to the communities in which we work, constantly tweaking and improving our programs so they can be as impactful and locally relevant as possible.
When climate change and its impacts seem overwhelming (which is often), Watersheds Canada breaks the issues down and offers tangible, practical solutions to protect local lakes, rivers, and shorelands. Erin Stewart, a recent presenter in our Freshwater Stewardship Community, said it best: "At the individual level, a huge way we can help is through our own individual education and educating others…At the provincial and federal level, it's really important to support organizations who are doing [habitat restoration] work at all scales, like Watersheds Canada."
Canada's freshwater areas are under immense pressure and they need immediate on-the-ground action. Your donation to Watersheds Canada this Giving Tuesday will ensure this action happens. All donations make a difference – new monthly donations are currently being matched by Maitland Tower, and one-time gifts are incredibly important as we look ahead to 2024 and see what funds we have available to help new groups and communities take action.
I know you value Canada's lakes, rivers, and shorelands just like I do. Please make a monthly or one-time donation today to ensure these irreplaceable areas are healthy and resilient for generations to come.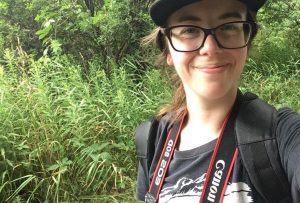 Best,
Monica