by Jane Pangilinan
The season of giving has arrived! As you wonder what to give your friends and family as gifts during the holidays, did you know you can create a positive impact while doing so?
 A great gift to give is one that gives back to communities. While there are so many deserving organizations, Watersheds Canada is a good candidate for your contributions. We are dedicated to protecting Canada's freshwater resources through providing education and resources based in the community. Here are six unique ways you can maximize your impact while giving this season!
#1. Purchasing unique and symbolic gifts
One way to protect Canada's freshwater is through purchasing items from Watersheds Canada's online store! Whether you need a gift for the nature lover in your life, or the person who has everything, you can find something on our secure online store. You can symbolically adopt various wildlife like a loon, monarch, or turtle, with your monies going directly to improving habitat for that species. Our newest symbolic gifts include an otter, a wild columbine, a beaver, and a brook trout, all drawn by incredible Canadian artists.
Looking to make a greater impact? Choose to protect pollinator health or lake health. For those that want to take a more direct approach to ecosystem health, you can purchase a handmade bird or bat house. To check out all available gifts and more details, please visit https://watersheds-canada.square.site/
#2. Donating financially
Another generous way to help Canada's freshwater is by financially supporting Watersheds Canada, a registered Canadian charity. You can make a one-time donation or become a monthly donor. Your secure donations are completed through CanadaHelps, a donation processing site. 
You can also donate securities and mutual funds through CanadaHelps. Since these transactions are exempt from the capital gains taxes, Watersheds Canada keeps more of the gift and your tax receipt reflects your larger contribution!
#3. Hold an online or in-person fundraiser
You can host product sales or fundraisers such as bake sales, bottle drives, and birthday fundraisers. One way is to do this on Facebook who has made it easy to support the causes that are important to you! Some benefits of hosting a fundraiser through Facebook include:
No fees for donations to most nonprofit fundraisers and low fees for personal fundraisers, like for your birthday or wedding.

Watersheds Canada has been approved on Facebook to receive donations through these personal fundraisers.

You can quickly spread your story to build momentum and raise more money.
#4. Volunteering
Another way you can contribute to Watersheds Canada but without involving financials is by volunteering your time and/or resources. While Watersheds Canada does not have any formal open calls for volunteers at this time, we happily work with new and current volunteers on our programs across Canada. Our Love Your Lake program relies on local organizations and volunteers to nominate their lake, while our Natural Edge Program connects landowners and partners to native shoreline plantings and resources. You can reach out to us for the 2023 site visit season here.
#5. Recycling to protect freshwater health
Looking to get rid of your used car by removing or recycling? Ensure it doesn't sit in your driveway or on your property and potentially pollute the land and nearby freshwater by contacting Donate a Car Canada. Their used car donations benefits charities that matter the most to you. Donate a Car will remove the car for free and you will receive a tax receipt for your donation!
 #6. Using and sharing free education resources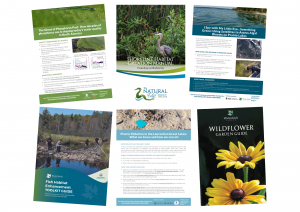 Whether it is program participation, attending a Freshwater Stewardship Community webinar, or utilizing our many free resources, you can learn about local wildlife, native plants, and how you can help preserve Canada's freshwater resources and ecosystems. Download and share these resources widely with your family, friends, community group, and anyone else you think could benefit from them!
Whatever way you are able to contribute makes a big difference for Canada's lakes, rivers, and shorelines! Whether it is through donations, making a symbolic adoption from our store, or volunteering your time, we look forward to partnering with you. For upcoming news and opportunities, be sure to follow us on Facebook, Twitter, Instagram, and YouTube.